February Edition: LAVA Link Newsletter
By: Randy Bautista
9 Min Read
1 Mar, 2022
LAVA – Always In Stock
Planning ahead and in-house manufacturing keeps our production schedule on track!
Recently, many tech companies have struggled with supply chain issues. The pandemic and global chip shortage have led to slowdowns in international shipping, resulting in longer than expected lead times for components and manufactured goods. Given these supply chain issues, many tech companies and manufacturers are low on, if not completely out of, stock. Often, if you were to call one of these companies up to place an order, you'd be told to call back in a few months, when they expected to have more products available.
However, LAVA doesn't have this problem. We're here to take your order and can usually fulfill the shipment within a few days. (If the order is large and we need to manufacture more units, it might take a few weeks.)
Why can LAVA do this while other companies and manufacturers cannot?
Two Reasons:
1) The wisdom that comes with 36 years of electronics manufacturing.
Over the years, LAVA has lived through many world events, experienced both ups and downs and picked up some valuable wisdom along the way. This includes always having additional components in stock as a safety cushion for when things go wrong.
2) We are Canadian-made!
All LAVA products are designed and manufactured locally in Toronto, Canada, greatly reducing our supply lines. In fact, currently, our longest supply line is our local PCB manufacturer which is located a whopping 34.5 km (21.4 miles) from our factory! (Yes, we know we are being dramatic –it's to prove our point.)
One of LAVA's founder and CEO Roman Wynnyckyj's driving ethos' is to support local manufacturers while also manufacturing locally. By doing all of the design and bulk of the production in our own plant, we can build products in a quick and efficient manner, for a reasonable price. So whether you are looking to purchase a large or small number of mobile adapters, enclosures, serial cards or one of our other products, we are available to take your order.
Give us a call at 1-800-241-LAVA or check out our website.
Highlights from LAVA's Social Media
Every month, we select our favourite social posts to be shared in the LAVA Link Newsletter. There is so much more to see, so follow us on Social Media!
LinkedIn | Facebook | Twitter | Instagram
Turn Your Tablets into Self-service Kiosks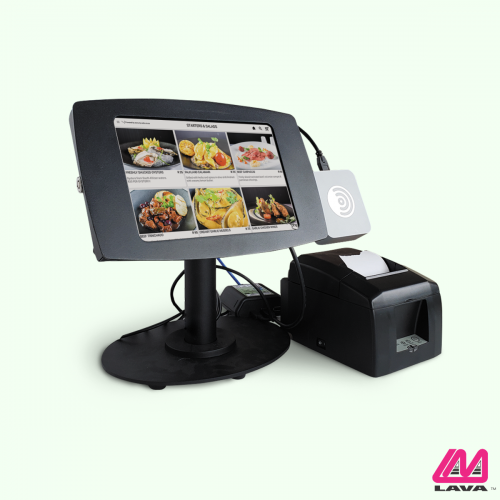 Connect Wired Ethernet and USB Peripherals to Create a Custom Kiosk

Many fast-food places and restaurants have seen a mass exodus of staff in light of the pandemic, a phenomenon known as the Great Resignation. One way to combat this is to set up a self-service kiosk to allow customers to order food with limited staff interaction, decreasing the need for a large staff. While turnkey units exist, they can be prohibitively expensive or inflexible for most restaurants. Using a SimulCharge adapter like the SynC+ 2UE and a Samsung tablet can allow restaurant owners to easily set up their own cost-effective self-service kiosk.
The SynC+ 2UE provides simultaneous charging and access to data (SimulCharge) to select USB-C Samsung mobile devices. It features an Ethernet port, two USB-A ports as well as Network Recovery & Battery Modulation (RBM) technology which ensures safe and dependable 24/7 tablet operation.

The Ethernet port provides a 10/100-capable wired network connection, allowing for the quick and secure transmission of orders and payments through the internal network, while the two USB-A ports allow you to add up to two USB peripherals, such as a debit/credit card reader for payment and a printer for receipts. So not only can your customers order their meal through a touch screen menu, they can pay for it too.

The adapter's built-in Battery Modulation technology works in tandem with the LTM application, installed on the tablet, to keep the battery within preset limits and thus protect it from overcharging and bloating. This ensures the kiosk can be plugged in 24/7, without fears of overcharging, heat damage or a severely limited operational lifespan.

To find out more about the SynC+ 2UE, check out the product page.
The Missing Link!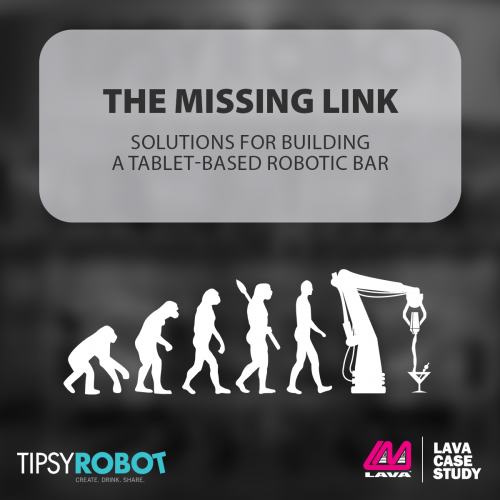 Solutions For Building a Tablet-based Robotic Bar

If you're in Las Vegas and need a drink, you can get served by a robot. Located at the Planet Hollywood Las Vegas resort, Tipsy Robot became the first land-based robotic bar and LAVA played a role in its creation. Robotic Innovations, Tipsy Robot's parent company, collaborated with LAVA to set up an order system using a Samsung Galaxy Tab A 10.1 and a contactless reader. The LAVA SimulCharge adapter, tablet and card reader were built into an enclosure designed by kiosk solution manufacturer imageHOLDERS.

Robotic Innovations needed simultaneous charging and data for its multiple tablets, wired network connectivity, battery protection and USB-enabled peripheral integration for the contactless reader. Tipsy Robot went with the eSTS-2UE, which features Ethernet and 2 USB-A ports for peripherals. The Ethernet port provides a wired network connection for the tablet. This connection was made more reliable through the eSTS-2UE's Network Recovery feature. Part of the adapter's RBM technology, it can reset the Ethernet portion of the adapter if the connection drops out.

RBM also includes Battery Modulation that protects the tablet from overcharging and its battery from bloating, which can cause severe damage. Through an accompanying LAVA Tablet Manager (LTM) app, you can set charging boundaries to ensure the tablet never overcharges. This extends battery lifespan so Tipsy Robot wouldn't need to replace its tablets as often.

If you want to know more about this implementation, check out the case study.
Eliminate Tablet Clutter in Your Restaurant!
PoE for Tablets Eliminates "Tablet Hell" by Providing Power and Data in One Cable

Many restaurants and cafes use tablets at both the front counter and in the kitchen, such as for food deliveries, order queuing and payment. It's essential for these restaurants to set up the tablets properly so they can streamline their activities. However, with what is often multiple tablets being placed next to each other, cable management can become a nightmare. LAVA's M8 nP2UE enclosure offers a solution that allows restaurants and cafes to set up their tablets in a cleaner and more sophisticated way.

The M8 nP2UE is a custom, compact enclosure for the Lenovo Tab M8 HD (TB-8505F) that features an integrated nLTS-P2UE adapter that provides simultaneous tablet charging and access to data (SimulCharge), Power over Ethernet (PoE), Ethernet and two USB-A for peripherals.

PoE provides power and network connectivity over the same Ethernet cable, resulting in less clutter than having two separate cables for each tablet. With PoE, the enclosure can be installed up to 328 ft (100 m) from the power source. This distance allows you to run the Ethernet cable through the ceiling for a cleaner look and you don't have to worry about plugging everything into AC sockets. While your restaurant may not have a PoE-capable network switch as part of the infrastructure, you can easily use a PoE injector. The enclosure also features standard VESA mounting holes allowing you to easily attach it to the wall or table mount to save additional space.

For more information on the M8 nP2UE, check out the website.
Don't Miss Out! Follow us on Social Media!
LinkedIn | Facebook | Twitter | Instagram
Highlights from LAVA's Blog
How nLTS Adapters Can Simplify Your Online Food Delivery System (3 min read)
With the rise of customers ordering food online, many restaurants use tablets to field these orders, often provided by food delivery partners. This article shows how LAVA's nLTS adapters with Ethernet connectivity can provide a strong addition to a restaurant's online delivery orders.
Case Study: LAVA Provides a Custom-built Solution for a Customer Loyalty System (4 min read)
LAVA partnered with a loyalty rewards company to create a POS tablet kiosk as an all-in-one system for payments, loyalty and rewards. The goal behind the project was to build a reliable and affordable mobile solution to help local communities by turning their loyalty programs into a massive database for hyper-targeted marketing.
Enterprise vs. Home Series SimulCharge Adapters: Which is Right for You? (5 min read)
LAVA builds adapters for both Enterprise and Home applications and sometimes it may be difficult to tell which adapter to use, especially as some devices in both lines have the same port configuration. This article will give an overview of the similarities and differences of these adapters so you can better understand which is the right one to buy.
SimulCharge Around the World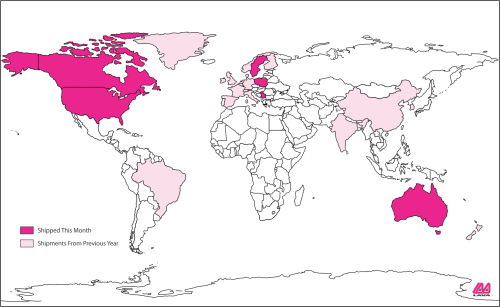 Over the month of February, LAVA SimulCharge adapters provided connectivity solutions for our international customers in both B2B and B2C markets. Our Enterprise SimulCharge products are comprised of the nSTS, eSTS, SynC and SynC+ adapters for Samsung mobile devices and nLTS adapters for Lenovo tablets. We also have our Home line of SimulCharge to OTG adapters (TL-002, TL-002R, Charge-Plus USB-C, LAN, and LAN HUB) for consumer applications.
All of LAVA's products are designed and manufactured in Canada. This month, we are proud to have served customers in Canada, the United States, Serbia, Sweden, Poland and Australia.
Please contact LAVA at emma@lavalink.com if you require more information, have any questions or, are interested in beginning a conversation. To learn more about who we are, what we value and how our products can help you, please visit our website lavalink.com/lavasimulcharge.