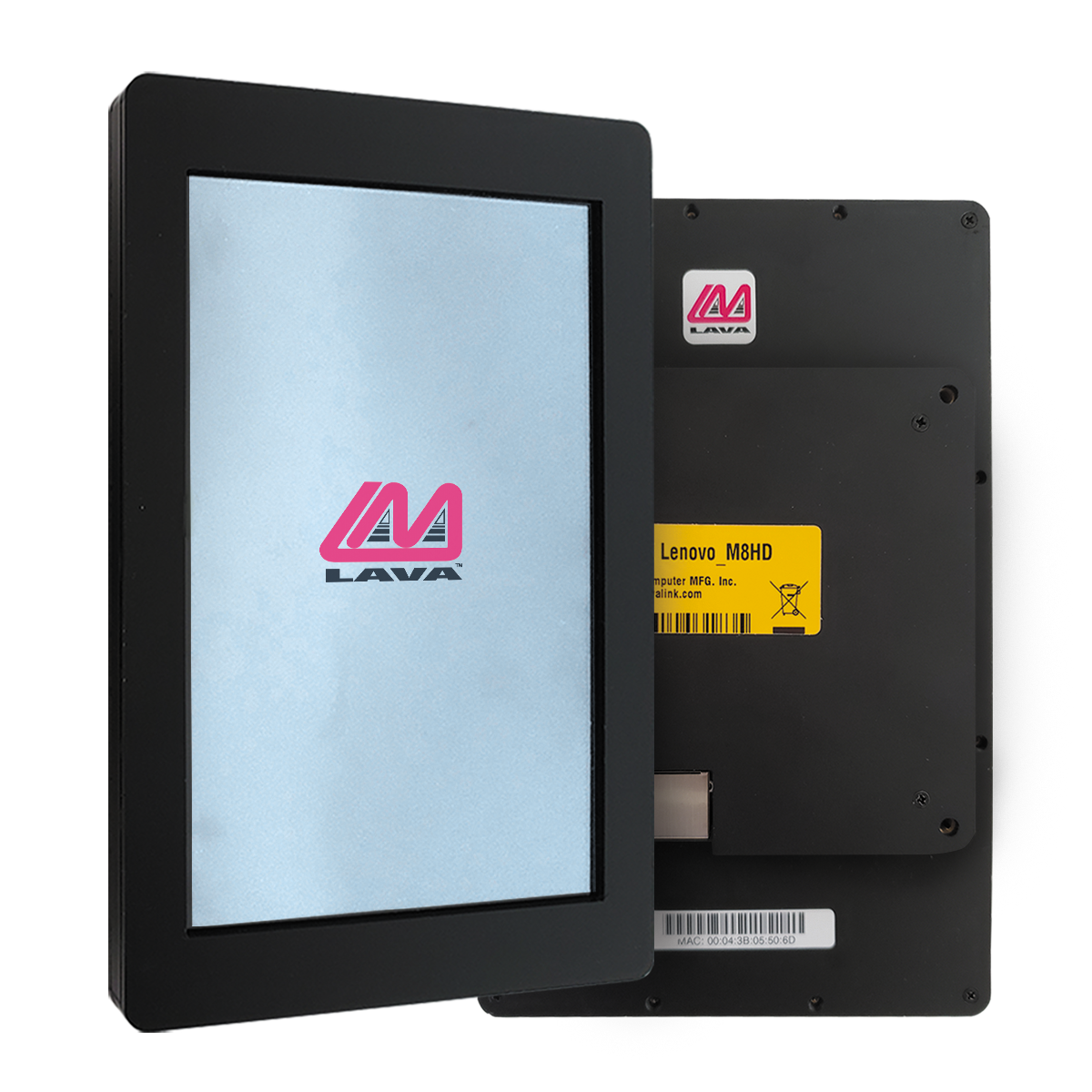 M8
n

P2UE

Enclosure
Custom enclosure for Lenovo Tab M8 HD (TB-8505F)
$339.99 / Web Price

(Tablet not included)
The M8 nP2UE enclosure provides the Lenovo Tab M8 HD with Power over Ethernet (PoE), Ethernet and two USB ports for peripherals, while also keeping it charged. It also features Docking Detect technology.
PoE provides power and data through the same Ethernet cable. This allows you to place the Lenovo Tab M8 HD up to 328 ft (100 m) from the power source. It can be installed in locations with no easily accessible AC outlets or in environments where extension cords or dedicated AC lines are prohibited, inconvenient or expensive. The M8 nP2UE is ideal for retail, hospitality, and digital signage applications.
How the M8 nP2UE Works
The M8 nP2UE is an enclosure with an integrated LAVA SimulCharge adapter for the Lenovo Tab M8 HD (TB-8505F) tablet.
The built-in LAVA nLTS-P2UE adapter provides the Lenovo tablet (sold separately) with simultaneous charging and access to data. It features Power over Ethernet (PoE), Ethernet and two USB ports for peripherals, allowing you to turn the Tab M8 HD into a full-on tablet-based kiosk. It also utilizes Docking Detect technology.
Power at a Distance with PoE
Leveraging PoE technology, the enclosure does not require a dedicated AC source, as it can be fully powered through its built-in Ethernet port*. Simultaneously, this port can provide 10/100 Ethernet connectivity between the tablet and network, providing a single cable solution for tablet power and data. PoE allows greater options for tablet placement as it can be used in areas with limited electrical outlets. It can be placed up to 328 ft (100 m) from the power source.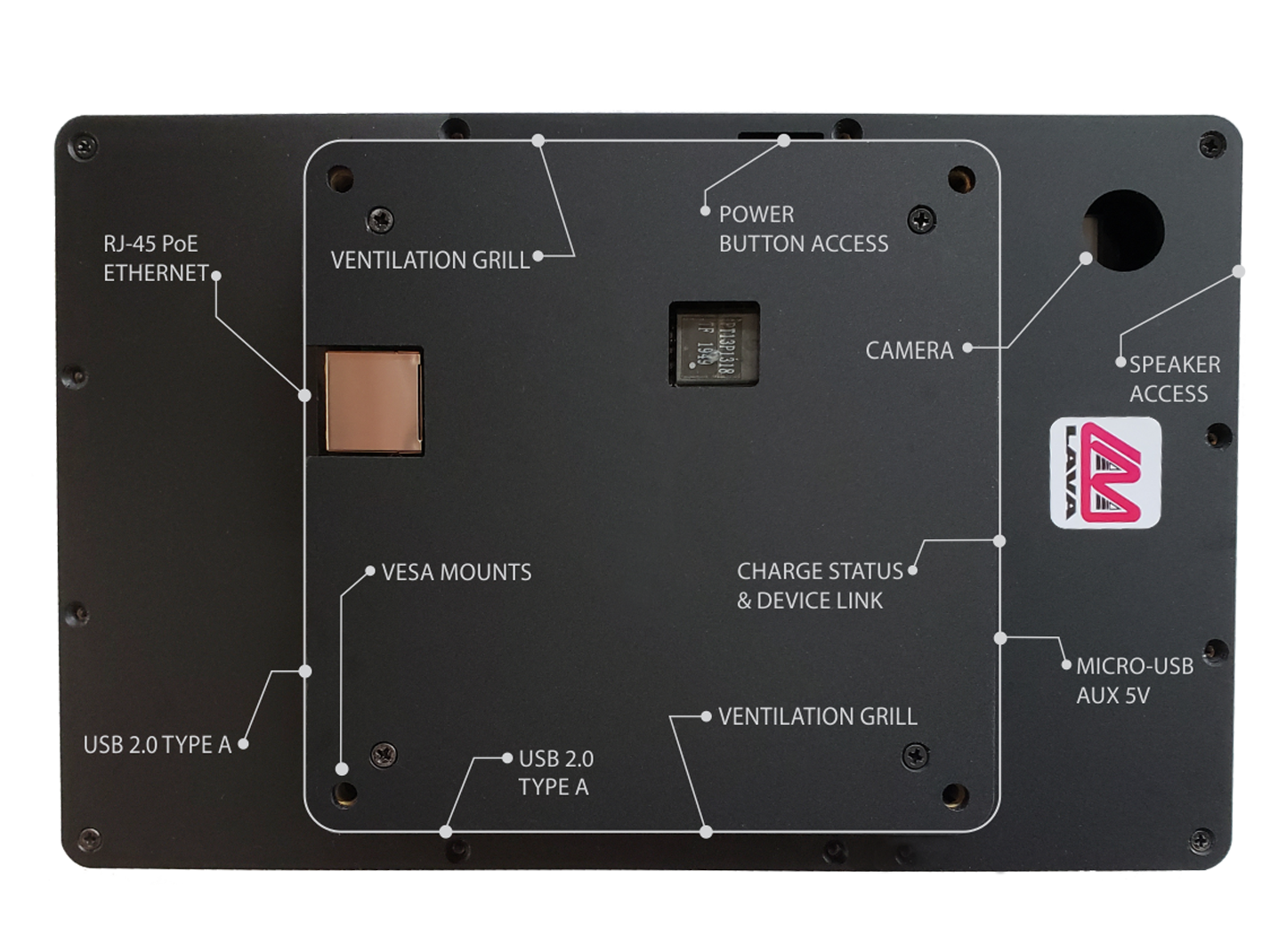 The adapter offers two USB Type-A ports for peripherals, such as a scanner, keyboard, printer or card reader. The M8 nP2UE enclosure is ideal for running tablet-based POS systems, company management systems or digital displays.
Reliable Device Connection
Docking Detect ensures the "greeting" protocols between the SimulCharge™ adapter and mobile device are executed correctly and consistently every time they are connected. This allows the adapter to be a plug-and-play technology that ensures the mobile device always operates in USB Host mode.
The black, acrylic M8 nP2UE enclosure also comes with standard VESA 100mm attachment points, which allow for easy tablet mounting and a wide array of personalized setups through VESA-standard commercial monitor arms and mounts.
*The tablet can also be powered through the adapter's Micro USB-B port, which is rated for the standard 5 volts at 2 amps.
---
---
System Requirements
For use with Lenovo Tab M8 HD (Model: TB-8505F) – sold separately



Product Sheet
---
Specifications
PORTS
1 x RJ45 10/100 capable Ethernet port
2 x USB 2.0 Type A (USB peripherals)
1 x Micro USB-B port (auxiliary 5V power input)



Specification Sheet
POWER INPUT
Power over Ethernet (13W maximum)
Appears as a Class 0 PoE device
For non-PoE operational use, the Micro USB-B port can be used
(port rated for maximum 5V at 2A input)
---
Features
Integrated nLTS-P2UE SimulCharge Adapter
Power over Ethernet (PoE) input
10/100 Ethernet
2 USB Peripheral Ports
Docking Detect
Portrait or landscape mounting option
VESA mounting holes (100mm)
LAVA Limited Warranty



Feature Sheet
RELEVANT ARTICLES & INSIGHTS
---
---
Tablet-based Staff Time Clock – M8 nP2UE
29 November, 2021
Many employees at warehouses and other industrial settings have traditionally used punch clocks to check in for shifts...
Off-the-Shelf Tablet-Based Digital Signage
24 November, 2021
The M8 nP2UE is a good option for digital signage in hospitals, malls and other locations. While not a huge screen, the Lenovo tablet's...
Tablet-Based Contact Tracing with the M8 nP2UE Enclosure
21 November, 2021
The M8 nP2UE enclosure and Lenovo tablet can provide a streamlined solution for contact tracing in schools...
Bad Wi-Fi in your Kitchen? A Tablet-Based Solution
18 November, 2021
The enclosure's compact size, mounting capabilities and built-in SimulCharge technology make it ideal for use in compact spaces...