How the Charge-Plus LAN HUB Can Help You Work from Home
By: Adam Swimmer
3 Min Read
30 Jan, 2022
As more employees continue to work remotely, it has become increasingly common for companies to let their workers use their own devices, a practice sometimes referred to as Bring Your Own Device (BYOD). While these employees would normally use a laptop or desktop, the LAVA Home Series Charge-Plus LAN HUB can help them turn their USB-C tablets into usable work devices.
While there are some security and tech support issues, the BYOD movement seems like a natural evolution in our connected world. The reason so many employees are able to work from home in the first place is because much of office work in this day and age has transitioned online, whether it's communicating by email or Zoom call, using web-based applications or accessing network drives through a VPN. If most of the work is done through the web or virtual network, then pretty much any decent-quality networked device can be used.
BYOD can increase employee satisfaction as people are often more comfortable using their own devices that aren't locked down and can configure how they wish. It also reduces costs for the employer as they don't need to fashion each of their remote employees with work-only devices. The Charge-Plus LAN HUB can help tablets transition from home-only devices to the work-capable platforms customers need them to be.
Part of the Home Series line of USB-C SimulCharge adapters, the Charge-Plus LAN HUB provides compatible Samsung tablets with simultaneous charging and access to data. It features an Ethernet port and two USB-A ports. The adapter's standard SimulCharge technology ensures the tablet always stays charged while it is in use, so the battery won't die during your regular workday. The Ethernet port allows you to connect the adapter directly into your router for a reliable 10/100-capable network connection, no more spotty Zoom calls or connection dropouts, as wired networks are always more reliable and faster than Wi-Fi. Besides wired Ethernet the adapter's two USB-A ports allow you to plug in an array of peripherals, such as a keyboard and printer, so you can transform your tablet from a touchscreen to a fully-fledged work system capable of handling all your work-related needs.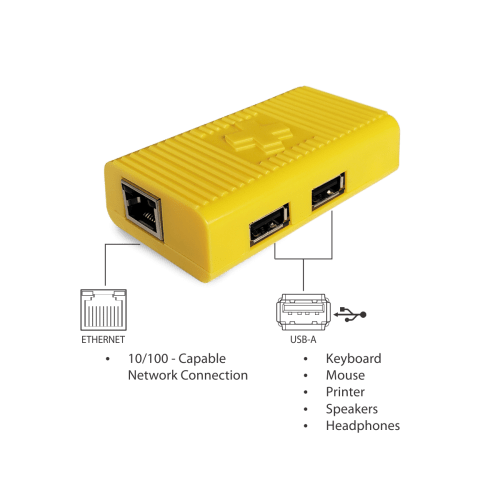 The small, yellow adapter is also portable, meaning you can easily take it with you if you need a change of scenery or want to grab a coffee. When not plugged into a power source, the Charge-Plus LAN HUB switches to OTG mode, where the adapter powers itself via the mobile device's battery. If you're in a café, you likely won't be able to connect to the network through an Ethernet cable but you can still hook up a mouse and keyboard to give your tablet more of a PC feel.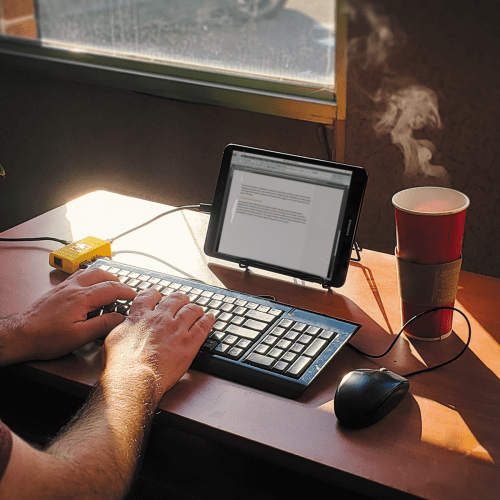 In addition, to select Samsung mobile devices, the Charge-Plus LAN HUB is also compatible with USB-C MacBooks, which tend to have a rather limited amount of ports. You can once again take advantage of the adapter's Ethernet port for a reliable wired network connection so that you don't have to worry about spotty Wi-Fi. As for the USB peripherals, you likely wouldn't need to add a keyboard since the MacBook has one built-in. However, you could still hook up a printer and then use that free USB-A port for speakers or headphones to assist you in video calls or to listen to music while you work. SimulCharge but the laptop's discharge will be slowed when plugged in. So it will last longer than if you use it in OTG mode.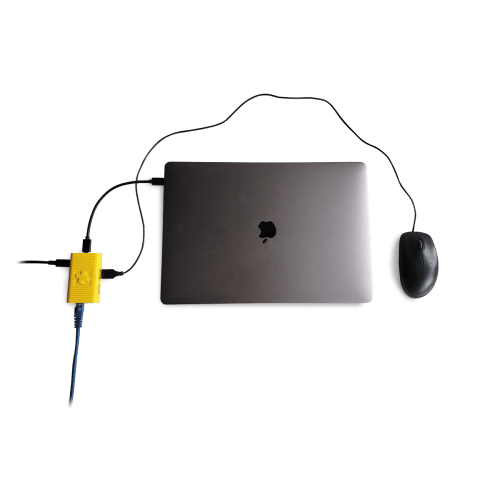 The adapter has both SimulCharge and OTG modes. It provides a reliable network connection through its Ethernet port and has two USB-A ports for peripherals to make the device work more like a desktop PC. The Charge-Plus LAN HUB is a great complement to the growing BYOD movement.
Find out more about the adapter on LAVA's website.