Is LAVA right for you?
By: Adam Swimmer
4 Min Read
9 Aug, 2022
Want to know if LAVA is right for you? Get to know LAVA better with our brand new profile video.
It highlights our design and manufacturing process, the benefits of working with the company, our vision for the future, and more!
Check out the video on our YouTube channel and let us know what you think in the comments.
LAVA Blog Highlight: Is Your Tablet's Battery Bloating? 4 Tips to Avoid this Issue
An Android tablet is a great choice for mobile kiosks, digital signage and other installations. However, when the tablet is put into a kiosk or used in another 24/7 setup where it is constantly receiving power, its battery can become damaged and bloat over time. This will make the tablet unusable and will require you to replace it, which can be quite costly.
This article will provide an overview for the problem and provide potential solutions to prevent this from happening.
To continue reading the blog, click here.
Developments in the Mobile Industry
Android 13 Coming Soon
Google released the final Beta of Android 13 in July and promises a final release is coming in a few weeks. While most mobile devices won't be receiving Android 13 on Day One, we, at LAVA, will endeavor to ensure SimulCharge-compatible devices continue to work efficiently once they do. We also offer a free device-testing program. If you loan us your Android tablet or smartphone, we will test it for compatibility with our adapters. Read more about the Android 13 Beta on the Android Developers Blog here.
Samsung Semiconductors Getting More Transistors for More Power
Samsung has begun its initial production on semiconductors using a 3-nanometer process using gate-all-around transistor architecture. In addition to being more compact than the current 5 nm node, Samsung says the first-generation 3 nm process can reduce power consumption by up to 45% and improve performance by 23%. Read Samsung's full press release here.
ICYMI…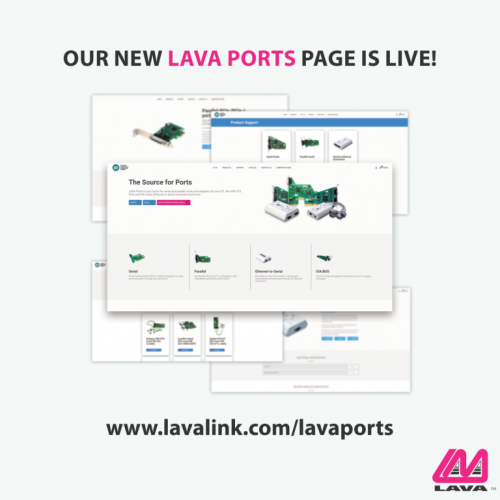 LAVA Ports, the company's site for PC cards and accessories has a new home.
We offer parallel and serial cards in different formats for your company and our Ether-Serial Links let you remotely access serial-based peripherals over an Ethernet connection.
Check out the new website for more information.
SimulCharge Around the World
In July, we are proud to have shipped SimulCharge adapters to customers in Canada, the United States, Netherlands, Denmark and Australia.