LAVA RELEASES NEW nSTS ADAPTERS THAT WILL MAXIMIZE YOUR TABLET EXPERIENCE
By: Jack Vanden Broek
2 Min Read
25 Oct, 2017
Toronto, Canada, 25th October 2017 – LAVA Computer MFG. INC., a manufacturer of interfaces for mobile devices and computers, has launched a new line of SAMSUNG tablet adapters, nSTS. These adapters use LAVA's patented SimulCharge technology that allows tablets to support USB accessories while charging, and now features the newly developed Docking Detect capability which lets your tablet operate with plug-n-play ease.
The new line of nSTS adapters supports a plethora of power options from USB Power Brick, PoE and AC Power Brick. It also includes a wide variety of products which feature Wired Network and up to 3x USB port capabilities. LAVA's nSTS is delivering even more tablet kiosk flexibility to your applications.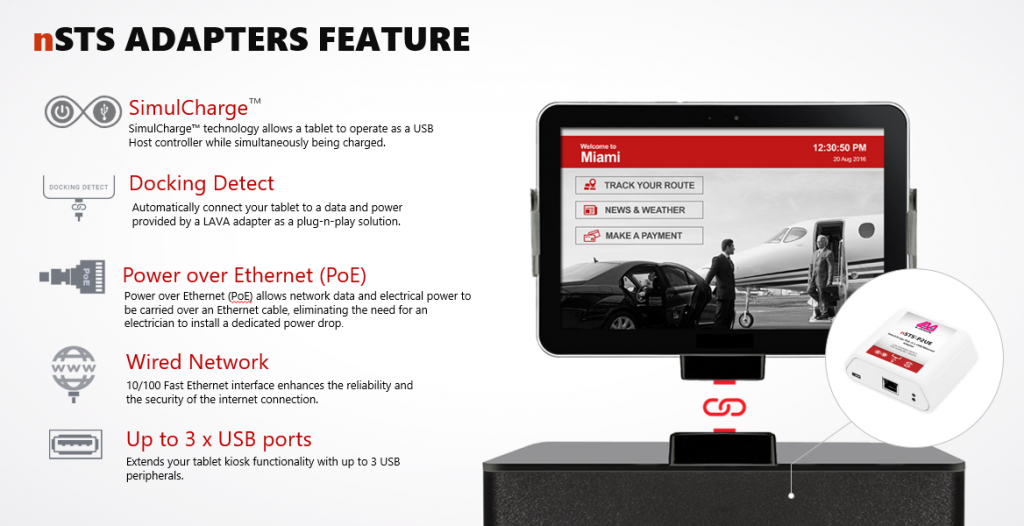 With Docking Detect you can plug and unplug your tablet from its enclosure and it will reliably connect power and USB peripherals every time. Gain plug-n-play flexibility using nSTS in your point of sales, quality control or transportation applications.
nSTS adapters are a natural extension of LAVA's existing line of Simulcharge adapters that enhance the possibilities of regular tablet kiosks. With the new nSTS line, your users can enjoy multi-purpose connectivity for an enriched tablet kiosk experience.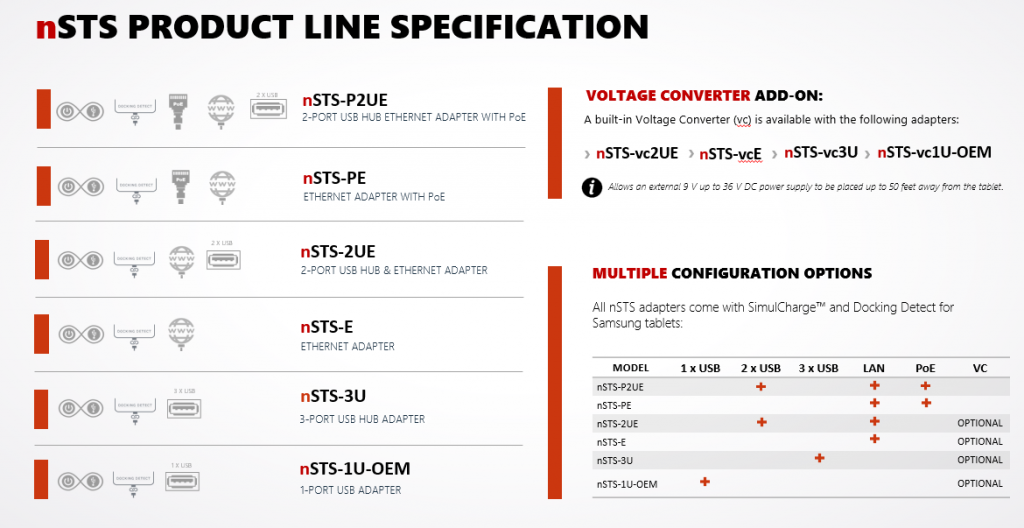 ABOUT LAVA
LAVA's mission is straightforward. We use our expertise to invent and innovate tablet PoE/USB/LAN/POWER connectivity solutions. Our team of skilled engineers devises creative, effective and reliable tablet solutions for our client's pressing technological problems. LAVA is the only company that offers the specific technologies it does because we pride ourselves on thinking differently. We are committed to helping our clients transform, economize and improve their businesses with our unique solutions. At LAVA we are not only reshaping our client's businesses but the future of computing technology.
Please do not hesitate to contact LAVA at sales@lavalink.com if you require more information, have any questions or are interested in beginning a conversation. To learn more about who we are, what we value and how our products can help you, please visit our website www.lavalink.com for more information.
Your connectivity experts,
Lava Computer Team