Samsung Galaxy Tab A8 vs. A7: Which is Better for Your Tablet Installation?
By: Adam Swimmer
3 Min Read
September 6, 2023
Are you looking to set up a tablet installation for your business but don't know what device to choose? In most situations, a mid-tier tablet will suit your needs. They are reasonably priced and you should be able to run any app your installation needs to operate.
Samsung, for example, releases new tablets almost every year in its mid-tier Galaxy Tab A line. Two of the more recent are the 2021 Galaxy Tab A8 (SM-X200) and the 2020 Galaxy Tab A7 (SM-T500). Which one will work better in your tablet installation?
Similarities between Samsung Galaxy Tab A8 and A7
On the surface, the two tablets are remarkably similar. They have roughly the same screen size and with similar resolutions. The A8 has a 10.5-inch display with a 1,920×1, 200-pixel resolution while the A7 has a 10.4-inch screen with a 2,000×1,200-pixel resolution. The differences here are largely attributed to the screens' different aspect ratios (A8's 16:10 versus A7's 5:3). Both tablets also feature the same cameras, speakers and 7,040 mAh lithium-ion battery.
Because the A8 is the more recent tablet, it has a newer CPU and GPU that offers slightly better performance. It also has more options for RAM and internal storage. Still, the differences here are modest.
What sets the Galaxy Tab A8 apart
As such, it's understandable that you might be tempted to choose the A7 tablet to save a little money. However, there is one key difference between these devices that makes the Galaxy Tab A8 a much better choice for your tablet installation. It comes down to the USB-C connection.
At LAVA, we test a variety of tablets for compatibility with our SimulCharge adapters, and while the A8 is compatible, the A7 is not. This is because while both are USB-C tablets, Samsung didn't implement USB-C the same way on them. Specifically, it implemented the USB-C Power Delivery (or USB-C PD) specification on the A8 tablet but not the A7.
Understanding USB-C PD
USB-C PD has a number of features that allow greater flexibility for power and data over the USB-C cable. What's key here is that with USB-C PD, the power and data direction is no longer fixed. Either the host or peripheral can provide the power.
This is required if you want to charge your tablet installation while still maintaining a data connection to the peripherals. The mobile device needs to be USB host to communicate with peripherals. A SimulCharge adapter, or other USB-C PD hub, which the peripherals are attached through can only charge the tablet if USB-C PD has been implemented on it.
If the specification isn't implemented, as is the case with the A7, the tablet (host) cannot charge through the adapter because it is also a peripheral. You could only use the A7 in a tablet installation if it was running off battery power and connected to any peripherals through an OTG adapter.
How the Galaxy Tab A7 Lite compares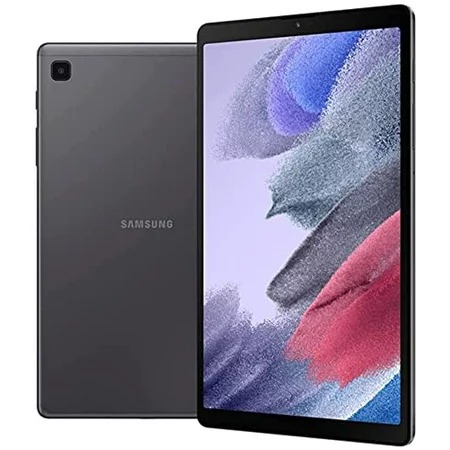 In 2022, Samsung appeared to rectify this oversight with the release of the Galaxy Tab A7 Lite (SM-T220). The A7 Lite has the USB-C PD specification implemented so it will work with SimulCharge adapters and other similar hubs.
Featuring a smaller 8.7-inch screen, this device may be a good choice if you are looking for a more compact setup.
However, to make them more affordable for consumers, Samsung's Lite tablets feature downgraded specs compared with their non-Lite counterparts.
In other words, the A7 Lite doesn't offer as good performance as the A7, let alone the A8. Depending on your use case, the A7 Lite may not be powerful enough for your needs.
Why the Galaxy Tab A8 is your best option
Ultimately, if you want to use a Samsung tablet for your mobile installation, the Galaxy Tab A8 is the right choice. While, it's not as powerful as a top-tier tablet, it should work well in most use cases. It offers better performance than both the A7 and A7 Lite and is compatible with USB-C PD adapters, such as LAVA's SimulCharge adapters, which provide simultaneous power and data.
To learn more about how to use one of our SimulCharge adapters with the Galaxy Tab A8, contact our sales team at sales@lavalink.com or call us at 416-674-5942.
Subscribe to LAVA's Newsletter and stay up to date on the latest company news, new product releases, and tech industry insights.
(Images courtesy Samsung)