Trends We Saw at NRF
By: Adam Swimmer
3 Min Read
February 7, 2023
LAVA attended the National Retail Federation (NRF) trade show in New York City in January and had a productive time. We had a chance to visit many of the booths and explore their technologies. Here are a few trends we saw at NRF this year.
Custom touchscreen-based POS systems/kiosks
At NRF, many companies showed off custom-built touchscreens of various sizes to be used as standalone point-of-sale systems or kiosks. Touchscreen manufacturer Elo, for example, displayed various mobile and static POS and kiosk setups at their booth.
Tablets are still popular
Despite the rise of turnkey solutions, tablet kiosks have not died off. A number of exhibitors still utilized mobile devices for their POS and kiosk displays. Both the flexibility and lower cost of using a tablet over a custom solution are likely among the reasons for their popularity.
Regardless, the prevalence of touchscreens (both custom-made or tablets) at the trade show reflects the rise in how much the retail industry has gone digital even in physical settings. Retail companies can use them for a store POS terminal, self-checkout kiosk or interactive digital catalogue, among other things.
The rise of AI
The trade show also saw exhibitors employing artificial intelligence with their products. We didn't explore this in too much detail as it's outside of the scope of technologies LAVA offers. However, we found the trend interesting nonetheless.
Making connections at NRF
In addition to checking out what NRF had to offer, we met with a couple of potential new partners and strengthened our relationships with existing customers and partners through face-to-face meetings.
Getting integrated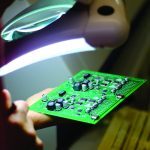 Looking for an integrated power and data solution for your mobile application? Do you need battery protection for an existing kiosk?
LAVA is expanding into providing more OEM solutions for customers. Our adapters can work behind the scenes, being embedded directly into your tablet setup.
To find out more about how we can serve your needs, give us a call at 1-800-241-5282 or email us at sales@lavalink.com.
Developments in the mobile industry
Samsung Galaxy UNPACKED
Samsung livestreamed its annual UNPACKED event on Feb. 1, which premiered the latest hardware and software updates for its mobile division, including its top-tier Galaxy S23 smartphone line. To learn more about Galaxy S23 line, check out Samsung's website.
New phone from Lenovo
The Lenovo ThinkPhone by Motorola launched in January. Aimed at business users, the phone can integrate seamlessly with a ThinkPad and includes security protection, such as ThinkShield and Moto Threat Defense. Find out more about the Lenovo ThinkPhone by Motorola here.
Note: LAVA has not yet tested the Galaxy S23 line or ThinkPhone for compatibility with our hardware. However, if you pick up one of these phones to use in a mobile installation, you can loan it to us and we will test it for compatibility with our adapters free of charge.

SimulCharge Around the World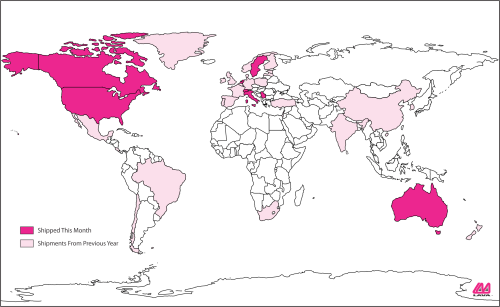 In January, we are proud to have shipped SimulCharge adapters to customers in Canada, the United States, Netherlands, Italy, Sweden, Serbia, Switzerland and Australia.