Turn Your Tablet into a Design Studio with the Charge-Plus LAN HUB
By: Adam Swimmer
3 Min Read
March 20, 2023
While many graphic designers work on desktop computers or laptops, there are advantages to using a tablet. Tablets are lightweight, portable, and offer the option to use a stylus. With the availability of various apps found in the Google Play Store (including Adobe products), the tablet may even resemble a canvas or drawing pad for some designers.
However, to get the most out of your tablet, you need to upgrade its functionality with LAVA's Charge-Plus LAN HUB, built to work with select USB-C mobile devices. It allows you to connect your tablet to power and data, as well as plug in accessories simultaneously, turning your tablet into a designer's dream.

Here are some ways the Charge-Plus LAN HUB will boost your graphic design experience:
Using the Charge-Plus LAN HUB at Home or Work
Whether you're at home or work, using a tablet over a computer is useful and convenient. With the Charge-Plus LAN HUB, you can plug the adapter into an electrical outlet and charge your tablet while it is in use. This will ensure the tablet stays powered through the adapter, allowing you to use it for longer periods of time without interruption.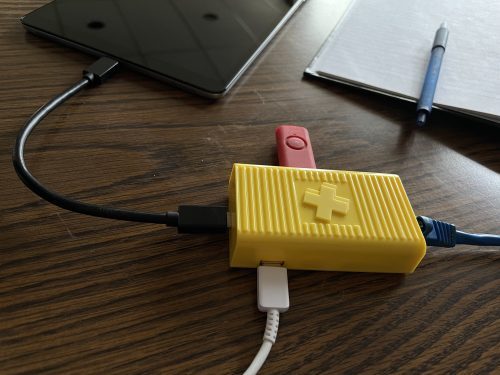 We call this SimulCharge mode – technology that allows the tablet to receive power and data simultaneously. The adapter also features an Ethernet port and two USB-A ports.
A Reliable Network Connection
With the Ethernet port, you can run a wired network connection directly to your tablet. This speeds up your workflow if you need to access the internet or share digital files with colleagues over the cloud. A wired Ethernet connection is more reliable for graphic design work, even if your office or home has decent Wi-Fi. We've all been there. We've all lost work at one time or another due to a dropped connection. Let's avoid that.
Connecting Accessories for More Functionality
While the tablet is portable, you might miss using a keyboard and mouse. The Charge-Plus LAN HUB's USB-A ports allow you to connect up to two accessories, such as a mouse for better navigation and quicker selections or a USB memory stick for transferring files. If you need physical copies of your design work, you can even connect a printer. Additionally, you could connect a separate graphics drawing tablet, such as a Wacom or Huion device, if you prefer drawing on that surface instead of the tablet's glossy screen. With these accessories, your tablet will operate almost like a computer, while still giving you the compact experience of working on a mobile device.
Using the Charge-Plus LAN HUB When You're Out and About
We've now figured out how to work from home and from office, but realistically you'll want to take your creativity everywhere you go. Here is a feature of the Charge-Plus LAN HUB that will allow you to do that.
OTG Mode
The Charge-Plus LAN HUB is small and light, making it easy to carry around with your tablet. The adapter doesn't require a separate power source and can run off the tablet's own battery in OTG mode. This means you can use the Charge-Plus LAN HUB with your tablet while on-the-go, whether at a hotel for a business meeting, in a café munching on a croissant and sipping a flat white, or while sitting under a tree in a park.
Remember that when running in OTG mode, the USB accessories will also run off the tablet's battery, which will drain faster than usual. Some accessories, such as printers, require more power than the tablet can provide over USB and must be plugged into an electrical outlet. Look back to the home/work section for more details.

Upgrade Your Productivity
LAVA's Charge-Plus LAN HUB can help you turn your Android tablet into a full-fledged graphic design studio – at home, in the office, or away from both. With a reliable network connection through Ethernet, you can easily share your work with colleagues over the local network or transfer files onto a thumb drive for boardroom presentations or meeting with clients.
To learn more about the Charge-Plus LAN HUB, check out LAVA's website or contact sales@lavalink.com.
Subscribe to LAVA's Newsletter and stay up to date on latest company news, new product releases, and tech industry insights.