LAVA n Series Adapter Overview
By: Adam Swimmer
2 Min Read
26 Sep, 2021
LAVA's n series adapters are entry-level SimulCharge devices. These adapters are available for select Samsung and Lenovo mobile devices. This article will provide an overview of the underlying technologies and features of this product line.
SimulCharge Technology
SimulCharge technology allows select mobile devices, such as tablets and smartphones, to charge while simultaneously communicating with peripherals.
With SimulCharge adapters, users can connect wired Ethernet or USB devices (printers, scanners etc.) to their tablets, without interrupting charging or choosing between power-only and peripherals.
The nSynC, nLTS and nSTS adapters can come with various features, such as wired Ethernet, Power over Ethernet (PoE) for passing electrical power and data through a single network cable, up to three USB ports for peripherals, and a voltage converter, which steps down an input voltage to a device friendly level when connected to a high voltage power source.
SimulCharge adapters are available as both standalone devices and as OEM products without an enclosure.
Docking Detect
Docking Detect ensures the "greeting" protocols between the SimulCharge adapter and mobile device are executed correctly and consistently every time they are connected. This allows SimulCharge adapters to be a plug-and-play technology that ensures the mobile device always operates in USB Host mode.
n Series adapters
The nSynC and nSTS are available for select Micro USB and USB-C Samsung mobile devices and the nLTS line is compatible with select Micro USB Lenovo devices. Here is a list of available SimulCharge adapters in LAVA's n series line: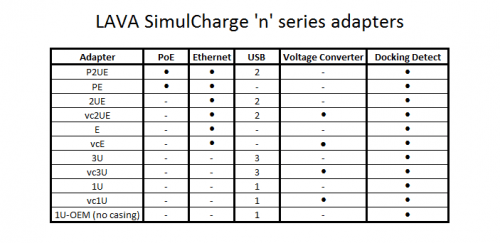 For more information about LAVA's n series adapters or other SimulCharge products, you can visit our website.