LAVA Gift Guide: What to Buy the Techie Person in Your Life
By: Adam Swimmer
4 Min Read
13 Dec, 2021
Can't decide what to buy that friend or family member who is always on their phone or tablet? Don't worry, LAVA has a few gift ideas for you. LAVA's Home series adapters make the perfect present for those who want to get the most out of their mobile devices. Take a look at the options in our gift guide.
For the One Who Wants to Stay Connected: Charge-Plus USB-C LAN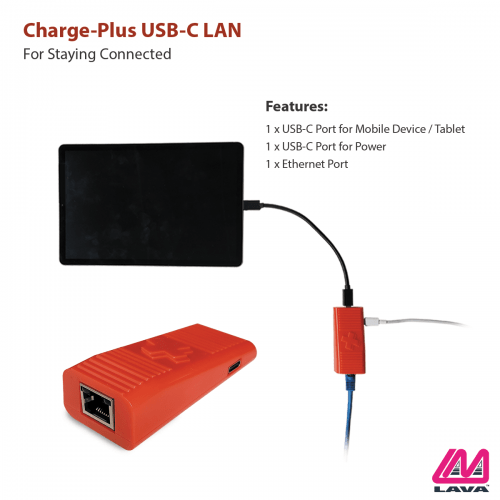 If the person you're shopping for is constantly struggling with connecting their mobile device to the Wi-Fi connection in their home, then the Charge-Plus USB-C LAN is a great gift for them.
The Charge-Plus USB-C LAN is a small, red adapter for select USB-C mobile devices with a 10/100-capable Ethernet port, so you can connect it with a cable to your modem or router for a wired network connection. When plugged into a power source, the adapter uses SimulCharge, which simultaneously charges the mobile device and provides it access to data. When unplugged, it is powered by the mobile device through OTG mode. Despite being a consumer device, the Charge-Plus USB-C LAN is robust enough that a medical device company has used it to provide a wired connection for one of its products.
The adapter is easily portable and can be used anywhere a wired network connection is available. While it is not compatible with Apple's iPad or iPhone, it can be used with MacBooks that have USB-C ports. MacBooks have greater power requirements than the Charge-Plus adapters can provide through SimulCharge but the laptop's discharge will be slowed when plugged in. This means the battery will last longer than when it is in OTG mode. The Charge-Plus USB-C LAN is currently on special for the holidays and can be purchased from LAVA's website for $59.99.
For the True Techie: Charge-Plus USB-C LAN HUB
The Charge-Plus USB-C LAN HUB is the premium adapter of the Home Series line and is the best choice for the person who wants to get a PC-like experience out of their phone or tablet. A little bigger than the Charge-Plus USB-C LAN, the yellow Charge-Plus USB-C LAN HUB is still easily portable. It features both SimulCharge and OTG modes. In addition to providing access to Ethernet, the LAN HUB comes with two USB-A ports. A mouse and keyboard (or other USB peripherals) can be attached so the mobile device can be used more like a computer.
The Charge Plus USB-C LAN HUB also has commercial applications. It has been used by a company that sells POS systems with RFID payment technology. Like the Charge-Plus USB-C LAN, the LAN HUB also works with MacBooks that are powered by USB-C. The Charge-Plus USB-C LAN HUB is currently on sale for $64.99.
Stocking Stuffer: Charge-Check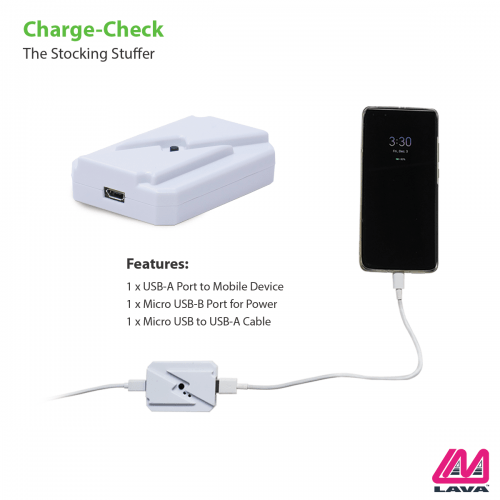 If you're looking for something a little less expensive to throw in a stocking, check out the Charge-Check. It provides battery protection. Anyone who's ever owned a cellphone knows that its battery life will degrade over time. This is often due to overcharging. Charge-Check helps protect against this degradation with Continuously Active Battery Modulation (CABM).
The plug-and-play adapter monitors the device while it is charging and stops it when the charge slows, as this indicates it is close to a full charge. The Charge-Check then lets the device discharge over a preset number of hours. This help protects the battery from degrading or bloating from constant overcharging.
Unlike the Charge-Plus series, the Charge-Check is a universal device. It can protect more than just smartphones and tablets. Charge-Check works with any device that charges over USB, such as wireless headphones, keyboards, mice or even game controllers. It has even been used in Black Hawk helicopters by U.S. military pilots. The Charge-Check is available on LAVA's website for a reduced price of $24.99.
We hope this gives you a few ideas on what to buy for that special someone — or yourself. From the Charge-Plus LAN HUB that gives a mobile device PC-like functionality to the battery-protecting Charge-Check, LAVA offers products that fit a variety of needs.
In addition to the Home series, LAVA also offers Enterprise SimulCharge adapters, which provide your mobile device with even greater functionality. They are available with additional USB ports and include other features, such as Power over Ethernet. Find out more at lavalink.com/lavasimulcharge.