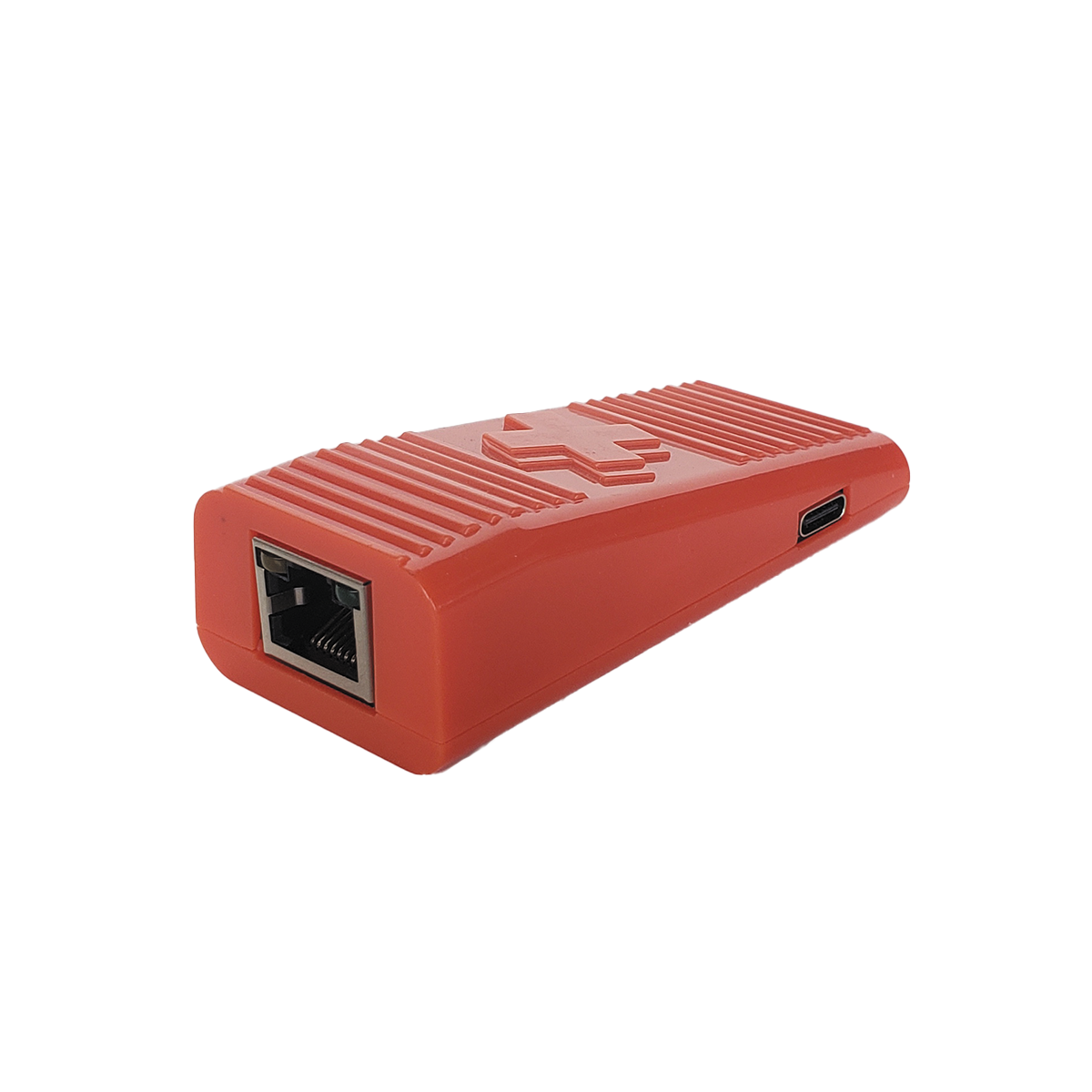 Charge-Plus LAN
Ethernet OTG Adapter for USB-C Mobile Devices
$79.99/Web Price
The Charge-Plus LAN provides compatible USB-C mobile devices* with SimulCharge™ and Ethernet. SimulCharge™ ensures the mobile device can simultaneously access the adapter's wired network connection and any USB peripherals attached to the adapter while it is charging. The portable adapter also features an OTG mode, which allows you to use it without a separate power source.
How the Charge-Plus LAN Ethernet OTG Adapter Works
The Charge-Plus LAN adapter provides compatible USB-C mobile devices* with simultaneous charging and access to data (SimulCharge™). It features wired Ethernet connectivity, two USB-A ports for peripherals and an OTG mode for when it is not plugged in.
The Charge-Plus LAN's Ethernet port provides a reliable 10/100-capable wired network connection that is more stable than Wi-Fi.
OTG Mode for Portability
The small adapter can easily be carried around in your pocket and it features an OTG mode. Like with SimulCharge™, the mobile device remains as USB Host so it can communicate with peripherals. However, unlike SimulCharge™, OTG mode lets the mobile device to power the peripherals from its own battery. This allows you to use the Charge-Plus LAN without an external AC power source.
The adapter comes in a red ABS casing that protects the electronics from mild shocks and impacts, allowing it to be used in different implementations. It ships with an 8-inch (20 cm) USB-C to USB-C cable required to connect the adapter to the mobile device. However, you can use a third-party cable up to 3 ft (1 m) in length.
The USB-C power port is rated for the standard 5 volts at 2 amps. It is recommended to use the charging cable that came with the mobile device**.
*The Charge-Plus LAN is not compatible with all USB-C mobile devices. Please see the list of tested devices.
**A separate power supply is not included.
How to get a wired Ethernet connection on the Samsung Galaxy Tab S6 Lite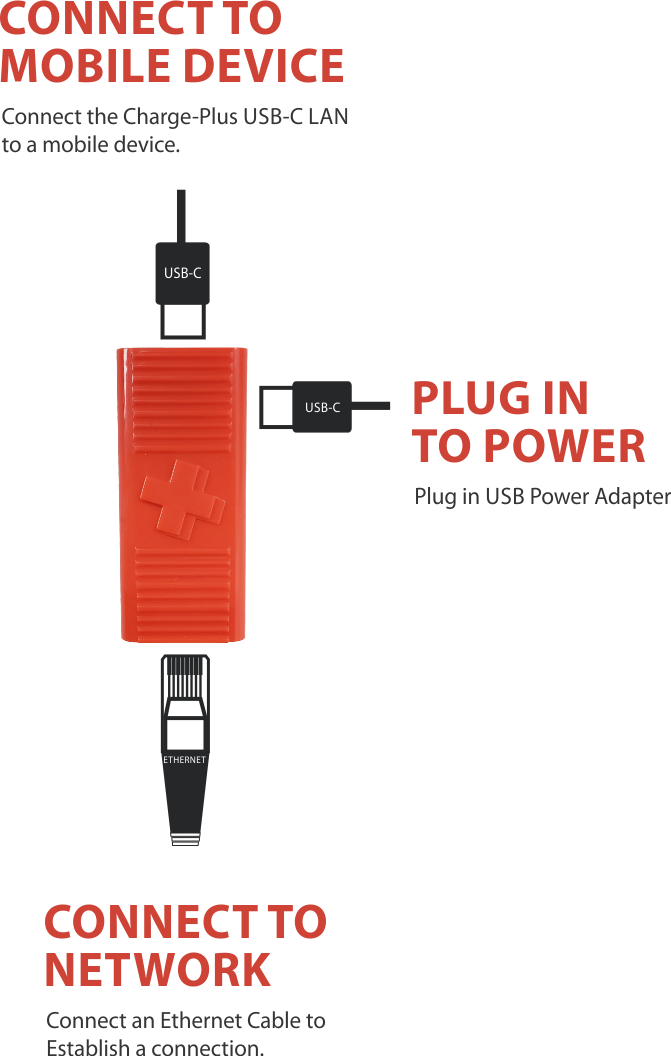 System Requirements
POWER SUPPLY
5V at 2A
USB charger/power supply with a USB-C connector, such as the power supply provided with the mobile device. Any regulated 5-volt power supply capable of at least 2 amperes can be used.
Specifications
CABLES
1x USB-C to USB-C cable (8 in/20 cm)
Note: The cable is included. However, a third-party cable of up to 3 ft (1 m) can also be used.
PORTS/CONNECTORS/LEDs
1 x RJ45 10/100 Ethernet port (LAN)
2 x USB-C ports (power input and to mobile device ports)
1 x Link /Activity indicator LED
1 x USB Activity indicator LED
MEASUREMENTS
Depth: 3.3 inches (84 mm)
Width: 1.5 inches (38 mm)
Height: 0.9 inches (23 mm)
Weight: 1.8 oz (50 g)
Features
USB Host operation while charging (SimulChargeTM)
OTG Mode
Wired networking (10/100 Ethernet) support
No mobile device rooting required
LAVA Limited Warranty
Use Cases
Wired Network Access for Personal Mobile Device
Digital Signage
Compact Check-In Kiosk
Patient Door Signage
Boardroom Scheduling
RELEVANT ARTICLES & INSIGHTS
Enterprise vs. Home Series SimulCharge™ Adapters: Which is Right for You?
21 February, 2022
LAVA builds adapters for both Enterprise and Home applications and sometimes...
OTG vs SimulCharge™
17 May, 2021
As LAVA's technical sales engineer, I frequently answer questions from customers about mobile devices and their specifications – usually regarding tablets. . One such recurring question...
Your Questions Answered: SimulCharge™ FAQ
7 Nov, 2021
LAVA's SimulCharge™ adapters offer a great solution for businesses and consumers who need to be able to charge their mobile devices...