November Edition: LAVA Link Newsletter
By: Adam Swimmer
8 Min Read
7 Dec, 2021
New Products at LAVA
November was a busy month for LAVA as we released multiple new products. Leading the release schedule was the M8 nP2UE – a custom enclosure for the Lenovo Tab M8 HD tablet. It features an integrated SimulCharge adapter (simultaneous charging and data), that includes Power over Ethernet (PoE), Ethernet and two USB-A ports for peripherals, such as a scanner and printer.
The M8 nP2UE is a compact device that can be used in a variety of situations. In a restaurant kitchen, it can be used to receive online orders. At a warehouse or other business, it could be used as a staff time clock. There are even digital signage and contact tracing applications for the enclosure. However, the sky is truly the limit for this compact, integrated enclosure and electronics package – that brings together the best of LAVA's electrical and mechanical abilities.
In addition to the M8 nP2UE, LAVA unveiled a special project from our u series line of adapters: the uSynC-1U MINI and uSTS-1U MINI. The same size as the Charge-Plus USB-C adapter, these small SimulCharge adapters come with one USB-A port for a peripheral and feature Continuously Active Battery Modulation (CABM).
CABM is a plug-and-play Battery Modulation technology that protects the mobile device and its battery from bloating, which can cause severe damage. It monitors the mobile device as it is charging and when the process slows to a trickle charge, it disconnects power, as it indicates the mobile device is near a full charge. The adapter then allows the mobile device to discharge over a preset number of hours before reinitiating the charging process. CABM and SimulCharge work together to ensure your mobile device can remained plugged in 24/7.
For more information about these SimulCharge products and others, check out LAVA's website.
---
Highlights from LAVA's Social Media
Every month, we select our favourite social posts to be shared in the LAVA Link Newsletter. There is so much more to see, so follow us on Social Media!
LinkedIn | Facebook | Twitter | Instagram
The Stadium PoE Solution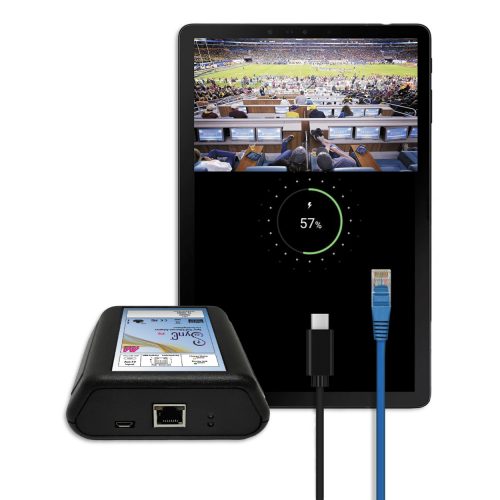 Box Seat Streaming made possible with SynC PE adapters
Miami Dolphins fans can get a premium experience at Hard Rock Stadium thanks to SimulCharge technology. LAVA provided a streaming solution for their 72 Club Living Room boxes that come with seat-side tablets connected to SynC PE SimulCharge adapters.

The SynC PE adapter uses Power over Ethernet to simultaneously charge the tablet, and maintain a reliable wired network connection via a single network cable. The tablet serves as a remote to control private televisions to stream the game itself, NFL Sunday and NFL RedZone.

Learn more about SynC PE adapters at https://lavalink.com/lavasimulcharge/product/nsync-pe/
LAVA's Poker Room Management Solution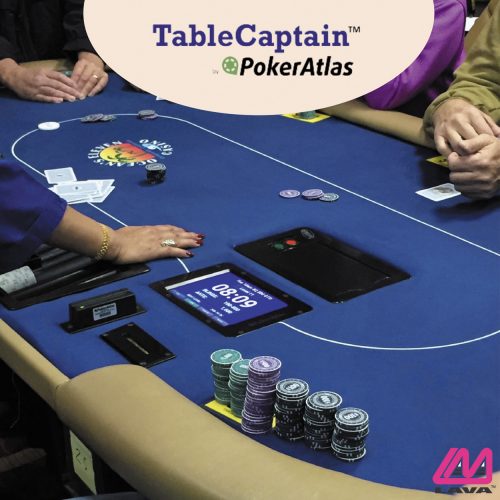 The PokerAtlas TableCaptain is a Poker Room Management System that simplifies room operations and broadcasts game information on PokerAtlas.

LAVA's SynC+ 2UE adapter enhanced this system by providing seamless streaming and USB integration! Casinos can attach a USB card reader and writer in the 2 USB-A ports, and connect to networks via Ethernet for uninterrupted secure network operation.

Plus, LAVA's built-in SimulCharge and RBM technologies allow for simultaneous charging and USB peripheral communication, while extending the battery lifespan and protecting the wired network connection.
What's Inside the M8 nP2UE Enclosure?
A Deeper Look into LAVA's Enclosure for Lenovo Tab M8 HD Tablets
The M8 nP2UE enclosure for the Lenovo Tab M8 HD tablet (ZA5G0060US or TB-8505F) with built-in LAVA SimulCharge adapter comes with four ports:
1) An Ethernet port which provides both a reliable wired network connection and Power over Ethernet (PoE) where available.
2) Two USB 2.0 (Type-A) ports for peripherals.
3) A Micro USB port for power, if there no PoE-capable network switches nearby. Using the Micro USB port, the enclosure can be powered from a standard 5-volt (2 Amp) power supply.
For more on the M8 nP2UE Enclosure, go to LAVA's website: https://lavalink.com/lavasimulcharge/m8-np2ue/
Don't Miss Out! Follow us on Social Media!
LinkedIn | Facebook | Twitter | Instagram
---
Highlights from LAVA's Blog
The K-SynC E Adapter: LAVA's Ad-Hoc SimulCharge Solution (3 min read)
If LAVA's off-the-shelf products do not fit a customer's needs, we have the ability to develop custom-made solutions. The K-SynC E adapter is an Ethernet adapter that was built to work with a customer's stock of Lenovo Tab M10 FHD Plus tablets, which are not compatible with LAVA's COTS SimulCharge adapters. Read more about the origins of this Ethernet adapter and how it solved the customer's problems.
Your Questions Answered: SimulCharge FAQ (5 min read)
LAVA's SimulCharge adapters offer a great solution for businesses and consumers who need to be able to charge their mobile devices while using Ethernet and/or USB peripherals at the same time. However, it may be difficult to know which adapter is right for you. We've compiled a few frequently asked questions from our customers about tablets, LAVA technology and our SimulCharge products.
The Benefits of Wired Peripherals and Networks (4 min read)
Wired peripherals and networks provide reliable connectivity, which is imperative for various medical, industrial and commercial applications. Here is a look at the advantages wired peripherals and networks provide over their wireless counterparts.
---
SimulCharge Around the World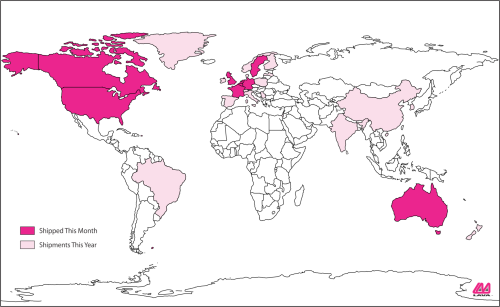 Over the month of November, LAVA SimulCharge adapters provided connectivity solutions for our international customers in both B2B and B2C markets. Our Enterprise SimulCharge products are comprised of the nSTS, eSTS, SynC and SynC+ adapters for Samsung mobile devices and nLTS adapters for Lenovo tablets. We also have our Home line of SimulCharge to OTG adapters (TL-002, TL-002R, Charge-Plus USB-C, LAN, and LAN HUB) for consumer applications.
All of LAVA's products are designed and manufactured in Canada. This month, we are proud to have served customers in Canada, the United States, Puerto Rico, the United Kingdom, France, Belgium, the Netherlands, Germany, Sweden, and Australia.
---
Please contact LAVA at emma@lavalink.com if you require more information, have any questions or, are interested in beginning a conversation. To learn more about who we are, what we value and how our products can help you, please visit our website www.lavasimulcharge.com.