January Edition: LAVA Link Newsletter
By: Randy Bautista
9 Min Read
1 Feb, 2022
SimulCharge in Healthcare
The digitization of healthcare has become even more important in light of the pandemic as a way to keep both patients and staff safe. Tablet kiosks and other mobile device implementations are increasingly being used for hospital digital signage, check-ins, patient charts, bedside monitors and more.
LAVA SimulCharge adapters can turn compatible Samsung and Lenovo mobile devices into versatile systems that can extend and enhance the care provided to patients. Providing simultaneous charging and access to data, they are available in various port configurations.
The SynC+ 2UE, for example, features Ethernet connectivity and has two USB-A ports, which can be quite useful in a hospital check-in kiosk setup. The Ethernet port provides USB-C Samsung mobile devices with a reliable 10/100-capable wired network connection so the hospital's internal database can be updated with each check-in. The two USB-A ports can be used for a scanner and card reader to streamline the check-in process and even keep things contactless if required.
LAVA adapters can also help reduce hospitals' installation costs. Some SimulCharge adapters feature Power over Ethernet (PoE), which provides power and a wired network connection over the same Ethernet connection. This simplifies the installation of tablet-based kiosks and digital signage setups as many hospitals already have PoE as part of their infrastructure.  PoE provides more options for tablet placement as you can install the adapter up to 328 ft (100 m) from the power source.
LAVA's SynC+ and eSTS adapters also feature Battery Modulation to protect the mobile device's battery from overcharging and bloating, ensuring its lifespan. This means the tablets won't need to be replaced as often.
To find out more about our SimulCharge adapters, check out our website.
Highlights from LAVA's Social Media
Every month, we select our favourite social posts to be shared in the LAVA Link Newsletter. There is so much more to see, so follow us on Social Media!
LinkedIn | Facebook | Twitter | Instagram
New Look… New Website!
LAVA's Corporate Website Gets a Facelift.
LAVA's corporate website has received a comprehensive overhaul! The new design brings together the company's various sectors of interest under one umbrella.
The revamped lavalink.com acts as a portal, where you can find out more about our various divisions. If you're looking for a tablet adapter for your business, check out our line of Enterprise SimulCharge adapters, which provide simultaneous charging and access to data. If you're looking for a mobile adapter for personal use, check out our portable Home series line.
You can also find PCI cards for your desktop PC and ESL adapters that allow you to connect your serial-based computer peripherals through the network.
That's just some of what you can find through our new-and-improved site. Check it out for yourself at https://lavalink.com/ and let us know what you think in the comments below.
From Tablet to Patient Check-In System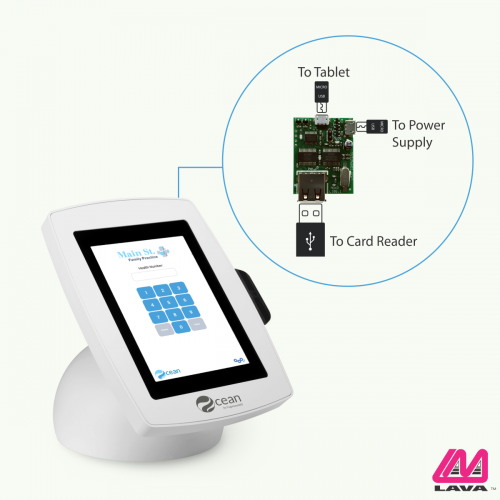 Use Your Tablet to Create a Customizable Healthcare Kiosk Without the Expense of a Custom Solution!
Tablet-based kiosks provide a fast and efficient way for patients to check into a hospital or clinic, which is safer for all involved by reducing in-person contact. Ocean by Cognisant MD developed a patient kiosk that integrates a LAVA eSTS-1U-OEM adapter, which provides simultaneous charging and access to data.
The adapter's USB port is used for a card reader to scan patients' health cards. After swiping, patients can check into the Ocean kiosk, review and update their information and fill out forms for their electronic medical records. The adapter also provides Battery Modulation technology that allows for 24/7 operation while keeping the tablet from overcharging and extending its lifespan.
Using the check-in kiosk also minimizes the exposure of healthcare workers to patients who may carry contagious diseases. Adding an antibacterial screen protector to the kiosk prevents the touch screen from being contaminated with germs and bacteria while reducing health risks to patients.
For more information about Ocean by Cognisant MD's patient check-in kiosks with the integrated LAVA eSTS-1U-OEM adapter, check out this blog article. 
Turn Your Tablet into a Healthcare Solution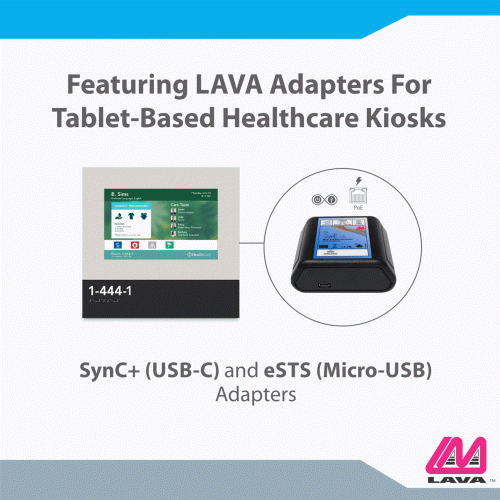 Expand Your Healthcare Capabilities with LAVA's Simultaneous Charging and Ethernet, PoE or USB-based Adapters!
LAVA SimulCharge adapters can help create versatile tablet-based healthcare solutions, such as digital signage, hospital check-in kiosks or bedside monitors. LAVA's top-tier e series line provides compatible Samsung mobile devices (SynC+ for USB-C and eSTS adapters for Micro USB) with simultaneous charging and access to data. Featuring RBM technology, these adapters use Battery Modulation to ensure the tablet's battery never overcharges or bloats, allowing you to keep the tablet plugged in 24/7.
LAVA SimulCharge adapters provide three different options for powering the tablet. In addition to standard 5-volt power which mobile devices use, LAVA has options for PoE and voltage converter (VC) technology. With PoE, power and Ethernet data are provided over the same Ethernet cable, eliminating the need for a separate/independent power cable. Meanwhile, VC adapters use a DC power supply with an output of 9 to 36 volts. Both these options allow for greater tablet placement.
With PoE, the adapter can be placed up to 328 ft (100 m) from the PoE-capable network switch or injector and VC allows the adapter to be up to 50 ft (15 m) from the AC power source. This means they can both be used in locations with limited access to electrical outlets.
LAVA's adapters are also available with multiple USB-A ports for connecting peripherals. The SynC+ vc5UE, for example, features five USB-A ports for peripherals as well as 10/100-capable Ethernet port. For a hospital check-in kiosk, you could add a scanner for health cards, a credit/debit card reader for payment and a printer for receipts and still have room for additional peripherals.
To find out more about how a SynC+ and eSTS can help with your tablet-kiosk setup, contact us today or visit lavalink.com/lavasimulcharge
Don't Miss Out! Follow us on Social Media!
LinkedIn | Facebook | Twitter | Instagram
---
Highlights from LAVA's Blog
So You Broke Your Dongle… (3 min read)
While a USB-C cable offers many advantages in terms of functionality, it doesn't have the sturdiest of connectors and can be damaged if not used properly. Since LAVA's SynC and SynC+ SimulCharge adapters use USB-C to connect with select Samsung mobile devices, we thought it's wise to share some of our engineers' tips and tricks for making your USB-C connector last longer, or to put it another way – this article is about how not to break your dongle… 
How the Charge-Plus LAN HUB Can Be Used with Portable POS Systems (4 min read)
Despite being designed for consumer use, LAVA's Home series SimulCharge adapters do have commercial applications. This article looks at how the Charge-Plus LAN HUB can be used by tablet-based POS system providers to create a 2-in-1 static and portable system for bars, outdoor events and festivals.
How the Charge-Plus LAN HUB Can Help You Work From Home (5 min read)
As more employees continue to work remotely, it has become increasingly common for companies to let their workers use their own devices, a practice sometimes referred to Bring Your Own Device (BYOD). While these employees would normally use a laptop or desktop, the LAVA Home Series Charge-Plus USB-C LAN HUB can help them turn their tablets into usable work devices.
---
SimulCharge Around the World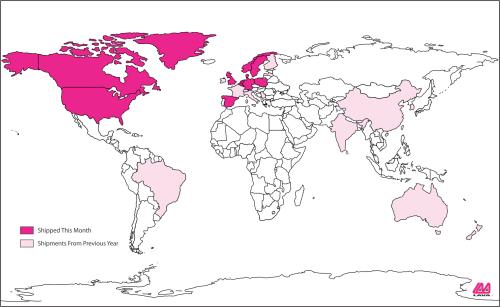 Over the month of January, LAVA SimulCharge adapters provided connectivity solutions for our international customers in both B2B and B2C markets. Our Enterprise SimulCharge products are comprised of the nSTS, eSTS, SynC and SynC+ adapters for Samsung mobile devices and nLTS adapters for Lenovo tablets. We also have our Home line of SimulCharge to OTG adapters (TL-002, TL-002R, Charge-Plus USB-C, LAN, and LAN HUB) for consumer applications.
All of LAVA's products are designed and manufactured in Canada. This month, we are proud to have served customers in Canada, the United States, Spain, the United Kingdom, the Netherlands, Belgium, Germany, Sweden, Denmark, Poland and Norway.
---
Please contact LAVA at emma@lavalink.com if you require more information, have any questions or, are interested in beginning a conversation. To learn more about who we are, what we value and how our products can help you, please visit our website lavalink.com/lavasimulcharge.