Introducing the oSynC-3U OTG Adapter
By: Adam Swimmer
3 Min Read
October 4, 2022
LAVA has unveiled the first adapter of our new oSynC line, which brings OTG to our Enterprise SimulCharge adapters. The oSynC-3U OTG is a new board-only adapter that features both simultaneous charging and data (SimulCharge) and OTG.
When connected to an external power source, the oSynC-3U OTG provides compatible USB-C devices with power and data at the same time. When the adapter is not plugged in, it will switch to OTG mode. Here, the mobile device runs off its own battery and communicates with the adapter and peripherals while also providing them with power. (The small oSynC-3U OTG features three Micro USB ports for peripherals but other port configurations may be coming in the future.)
Unique Technology – True Dead Battery Mode
The oSynC-3U OTG features a new LAVA technology, True Dead Battery Mode, which allows the adapter to charge the mobile device even if its battery is totally dead and can't negotiate a power contract. This might happen if the mobile device is kept in storage for months at a time. The small amount of charge it had retained from the last time it was plugged in will have slowly drained away (even if the device was powered off).
Additionally, for increased reliability, the oSynC-3U OTG also features Docking Detect to ensure the greeting protocols between the adapter and mobile device are executed correctly each time they are connected.
The oSynC-3U OTG is a small board that can easily be incorporated into an enclosure along with a tablet or smartphone. It is ideal for mobile POS systems, outdoor kiosks and other locations where you don't always have access to an AC power source. Check out LAVA's website for more information.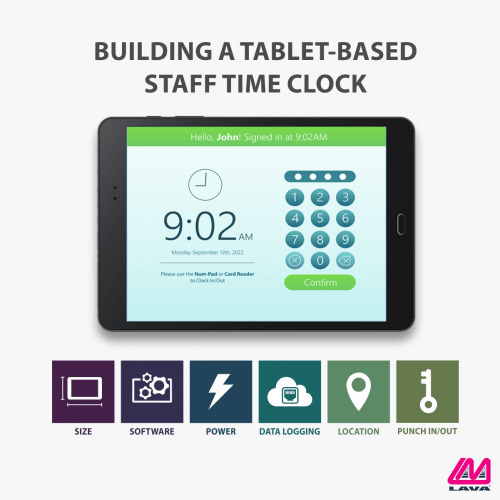 LAVA Blog Highlight
Long gone are the days of workers lining up in front of a punch card machine to clock in and out of their shifts.
However, time clocks are still used by many businesses to record the number of hours their employees work. They've just gone digital.
These days, you can easily set up a staff time clock for your company using an Android tablet and the proper apps.
To continue reading the blog, click here.
Developments in the Mobile Industry
New Apple Devices
The annual Apple Event was held on Sept. 7, where the company unveiled new devices, including the iPhone 14 line, Apple Watch Series 8 and new AirPods Pro. While LAVA adapters are designed to work with devices running Android not iOS, we do offer a few units that work with Apple products.
The consumer Charge-Check, for example, is a universal adapter that provides battery protection to any lithium battery-powered device that charges over USB. Our Raven PoE Power Adapters, which split the Power over Ethernet signal into separate power and network data signals, can also be used to charge Apple devices.Find out more about Apple's latest products here.
SimulCharge Around the World
In September, we are proud to have shipped SimulCharge adapters to customers in Canada, the United States, Mexico, Brazil, Netherlands, Germany and South Africa.