SimulCharge™
Simultaneous Data Transfer and Charging
SimulCharge™ is a mode uniquely innovated by LAVA that allows portable devices such as tablets or phones, to charge while simultaneously interacting with USB accessories
Want to use wired peripherals while your tablet is charging?
Mobile devices can operate in either USB Host or Target mode. When it is in Host mode, it is the primary device and is able to control peripherals attached and access a wired network connection (if there is one). However, when it is charging, it switches to Target mode, with the Host being the power source. In Target mode, the mobile device loses access to data. This means you generally can't use peripherals while the mobile device is charging.
Our Solution
SimulCharge™ provides simultaneous charging and access to data to compatible Samsung and Lenovo mobile devices
The technology works with select USB-C and Micro USB devices and our adapters have various port configurations, including Ethernet and multiple ports for USB-enabled peripherals. With a LAVA SimulCharge™ adapter, tablets and smartphones can be used in kiosks, digital signage and other mobile device-powered applications.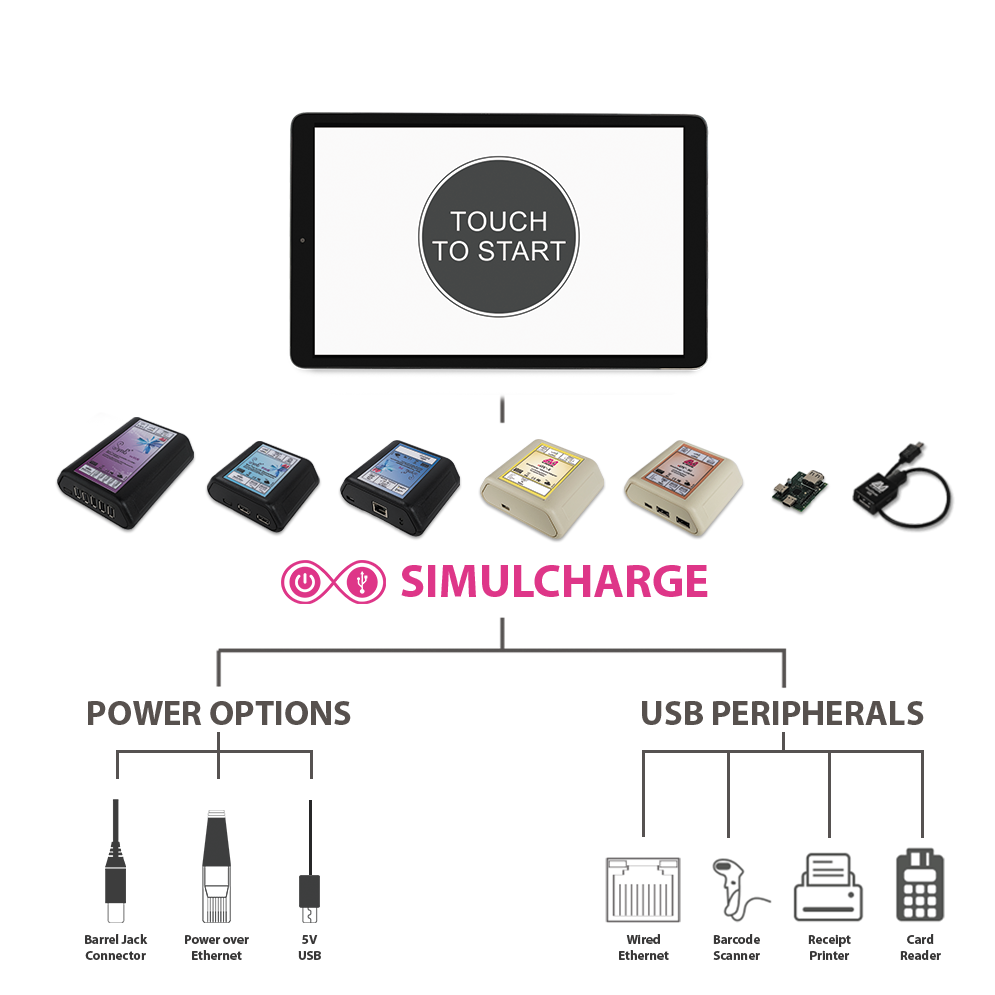 How SimulCharge™ Works
A LAVA SimulCharge™ adapter allows the mobile device to remain in USB Host mode while plugged in through its USB port. The mobile device is able to charge from a power source, while maintaining access to any peripherals attached to the adapter and a network connection (if applicable).
Enterprise Series
LAVA's Enterprise Series are versatile mobile adapters designed to be used by businesses in permanent and semi-permanent installations, such as tablet-based kiosks, digital signage or staff time clock applications.
Many of these adapters come with additional technologies, such as Battery Modulation (overcharge protection) to extend the mobile device's lifespan, Network Recovery to provide a reliable wired connection and Docking Detect for permanent and portable kiosk applications.
Home Series
LAVA's Home Series SimulCharge™ adapters are small, easily portable and designed for personal use.
They can be used for adding wired Ethernet and/or USB peripherals to your mobile device, giving it more functionality. They also feature an OTG mode so they can be used without a separate power source and be powered by the mobile device.
A World of Peripherals
With Simulcharge™ your tablet can open up a world of possibilities by supporting USB accessories such as:
Wired Ethernet
NFC Reader
MagStripe Reader
2D Scanner
Biometric Input Device
GPS Tracker
Printer
Scale
Digital Camera
Pulse Counter
USB-to-Serial Adapter
Momentary Switch (button)
Keyboard/mouse
USB Hard Drive
Flash Drive
Media Reader
Gaming Controller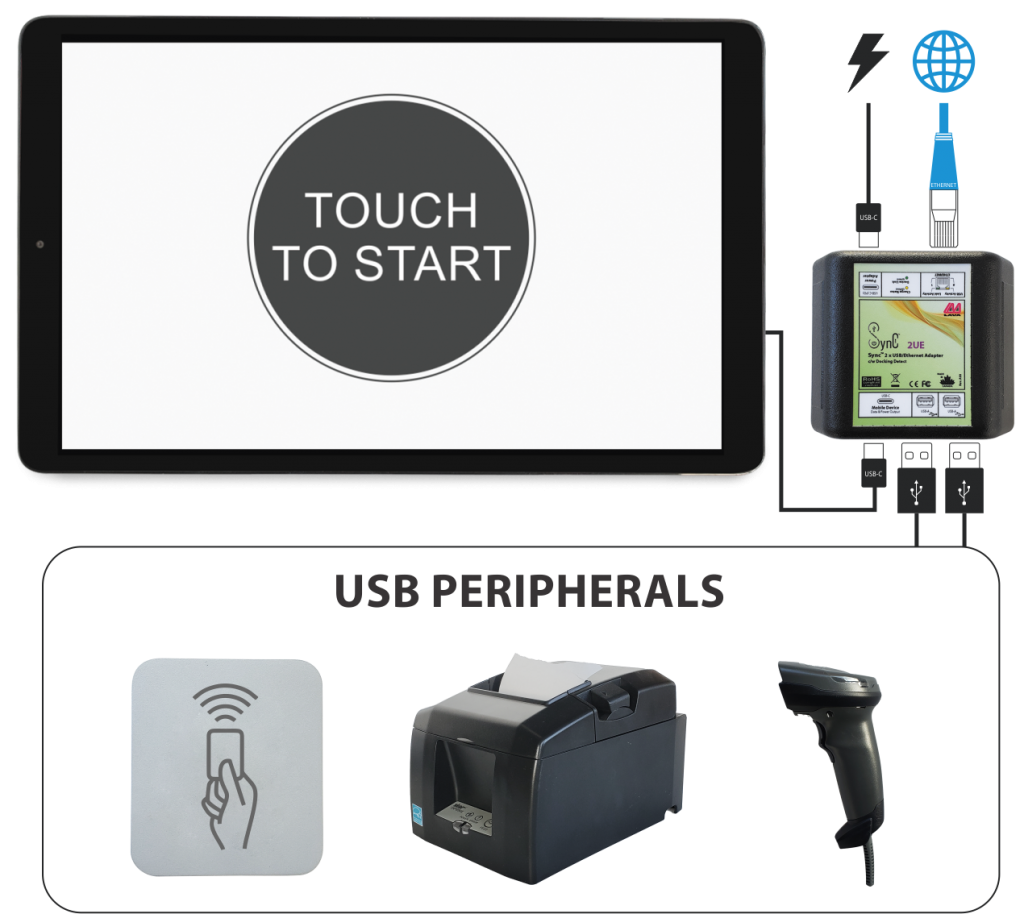 Powering Up
Keep your tablet fully charged and functional, while deploying the USB accessories of your choice. LAVA adapters are available in 3 power options:
5-Volt
Units with a 5-volt power input allow the mobile device to be up to 6 feet (2 meters) away from the power supply. This is the standard power option for mobile devices. Any regulated 5-volt, 2-amp (DCP-capable) power supply can be used. Though, it is recommended you use the charger that came with the mobile device.
Voltage Converter (9-36V)
Voltage converter units allow the adapter to be placed up to 50 feet (15 meters) away from the AC power source. The adapter features a Barrel Jack port for a DC power supply. The built-in voltage converter allows the adapter to receive an input voltage between 9 and 36 volts and steps it down to a device-friendly 5 volts for use with the mobile device. They are ideal for automotive or battery-based applications. The low DC voltage also allows these adapters to operate in permanent and semi-permanent installations while being fully compliant with local electrical codes. This eliminates the expense of hiring an electrician and the requirement of dedicated AC cable routing and installation.
Power Over Ethernet
Power over Ethernet provides up to 10.4 watts of power and wired network connectivity over the same Ethernet cable. LAVA's PoE SimulCharge™ adapters can be installed up to 328 feet (100 meters) away from the power source. You don't need to hire an electrician as the installation does not involve electrical cables going into an AC power source. If no PoE-capable network switch, you can invest in a third-party PoE injector which can turn a regular LAN connection from a modem or router into PoE.
Get The Most Out Of Your Tablet
Integrate a SimulCharge™ adapter with your tablet kiosk or other mobile device application for advanced functionality
Relevant Articles and Insights
LAVA Technologies
Read more about the various technologies that power LAVA's adapter lineup