LAVA Enclosures Can Turn Your Consumer Tablets Into Commercial Installations
By: Adam Swimmer
8 Min Read
May 8, 2023
LAVA has recently expanded our Enclosure line for Samsung and Lenovo tablets. With new options available for the Samsung Galaxy Tab A8 (SM-X200), the Galaxy Tab A7 Lite (SM-T220) and the Lenovo Tab K10 Batteryless (TB-X6C6NB), these Enclosures feature built-in SimulCharge adapters, which provide the tablets with simultaneous power and data. All of the Enclosures feature Ethernet, which provides a more reliable network than the tablet's own connection to Wi-Fi. We also have additional options for two USB-A ports and Power over Ethernet (PoE).
PoE combines power and a wired network connection over the same Ethernet cable, simplifying cable management. You can also install the Enclosure up to 328 ft (100 m) away from the PoE-capable network switch or injector. This allows you to power the Enclosure from a considerable distance. You can also install it in areas with limited access to power outlets.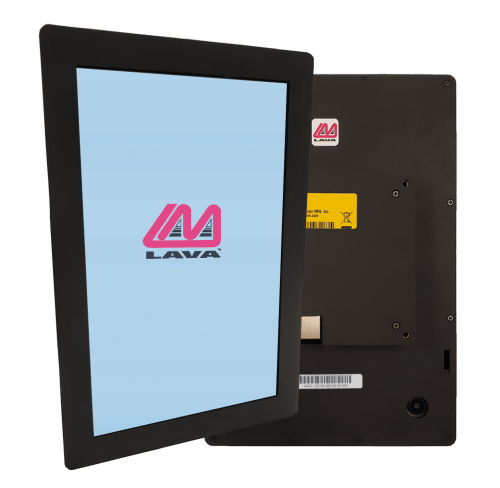 Available for a fraction of the price of a turnkey solution, LAVA's Enclosures are a one-stop shop for your business. Whether you need a POS system, self-checkout system, digital signage or other tablet-based setup, a LAVA Enclosure suits your needs. You can also use them in 24/7 installations. Our Enclosures for Samsung tablets feature battery protection through RBM Technology, which prevents overcharging and battery swelling. It puts the tablet's battery through the optimal charging and discharging cycles. This ensures the tablet never exceeds a 100% charge and stays healthy up to 6+ years. RBM also provides wired Ethernet recovery in case the network connection unexpectedly drops out.
You can also use the K10 Batteryless Enclosures in permanent installations since the Lenovo tablet has no battery. This removes the risk of overcharging and battery swelling.
Keep reading for an overview of how you can use our Enclosures in different industry sectors. Or click on the industry that is most relevant to you:

Hospitality and Tourism
Retail
Office Buildings
At the Cottage
Warehouse
Digital Signage
Hospitality and Tourism
In the hospitality and tourism industry, tablets for business use cases are becoming more popular. LAVA's Enclosures can help expand their functionality.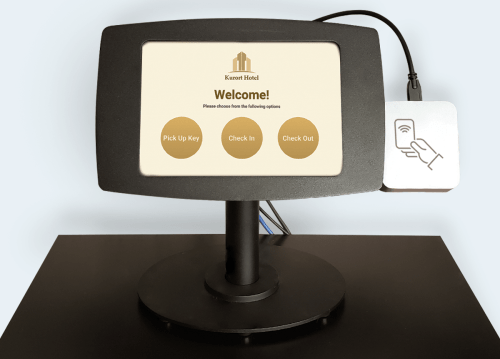 You can use a LAVA Enclosure for a self-check-in kiosk. Simply attach the Enclosure to a desk mount via the VESA mounting holes. Then, attach the necessary peripherals, such as a card reader and receipt printer, streamlining the process of guests checking in and out of the hotel.
You can also use the LAVA Enclosures with in-room tablets. You can use them to both control devices in the room and communicate with staff. Mounted to the wall, the Enclosure can be used to manage smart devices in the room. The Enclosure can connect directly into the hotel's network through Ethernet or PoE and control Internet of Things (IoT) devices in the room. This includes adjusting the room temperature and setting wakeup alarms. Through the internet connection, you can check out the daily headlines and weather conditions before leaving the hotel. You can also use the tablet to communicate with hotel staff. You can request towels, toiletries etc., ask for a room cleaning or order room service. If desired, you can also attach a credit card reader to the Enclosure to allow for direct purchases.
In a restaurant setting, you can mount the Enclosures to tables for a reliable interactive menu experience, thanks to its Ethernet connection. If needed, you can even attach a card reader and receipt printer to the Enclosure, streamlining payment.
Retail
In a retail store, one of the more popular options for a LAVA Enclosure is its use as a replacement for a POS system or turnkey self-checkout kiosk. You can moutn the Enclosure to a stand or countertop so an employee or customer can access it. In both cases, you can connect a barcode scanner and card reader to the tablet for scanning items and payment. The cashier can also access the tablet's touchscreen to delete or add something manually if an error occurs while scanning.


Another option for the retail space is digital catalogues. Usually installed in aisles or near the front of the store, customers can use these kiosks to look up pricing, availability and location of items in the store.
Thanks to the Enclosure's USB-A ports, they can also be equipped with barcode scanners to scan products on hand for pricing information and/or keyboards to facilitate product searches thanks to the Enclosure's Ethernet connection.
Office Buildings
LAVA Enclosures can be an ideal choice for your office building in various capacities.
In the lobby, you can mount an Enclosure to a stand to serve as an interactive directory for the building. Similar to an information kiosk in a mall, the Enclosure can provide searchable information of all the businesses in the building and their locations on a digital map. Alternatively, it can provide a staff directory if the building is occupied by a single company. You can attach a keyboard to one of the Enclosure's USB-A ports to make it easier for the visitor to do searches.
If your company wants to keep track of who is coming and leaving the building, you can also install the Enclosure at the security desk as an interactive guestbook. Similar to a physical guestbook, the interactive guestbook allows visitors to tap in their information on the touchscreen (or type it in on attached keyboard). Unlike a standard guestbook, the times will be more accurate as the tablet's date and time is synchronized through the Ethernet connection. It also allows staff to more efficiently track contractors or other guests who need to access the building on multiple occasions.
In an office, you can use the LAVA Enclosure as a smart office controller. You can mount it on the wall to allow for easier control of IoT devices in the office.
In a non-smart office setup, you can mount the Enclosure to the wall by a boardroom for booking purposes. If many employees need to use the boardroom for meetings throughout the day, this can be an efficient way to manage it. Employees can use the tablet's touchscreen to book a time for their meeting and it can display when the boardroom is free or occupied.
Depending on your software, you can also set it up to allow people to book the meetings from their own computers and have that information sent to the tablet over the Enclosure's Ethernet connection.
At the Cottage
As summer is fast approaching, many people will be spending more time outside or at the cottage. Our Enclosures can help you get the most of the sunny days.
Enclosures can come in handy with home and cottage management. You can install the Enclosure in the living room or kitchen for personal use and use the tablet to control smart devices in your cottage. You can adjust the room temperature or the heater on your outdoor pool. LAVA's RBM technology can also protect the tablets when the cottage is not in use. You can leave the Enclosure plugged in off-season and the tablet won't overcharge.
RBM also prevents overheating. By preventing the tablet from charging non-stop, it reduces heat generated by the battery. This is important if the Enclosure is installed near a window where it might be in direct sunlight.
Warehouse
You can integrate a LAVA Enclosure into your warehouse, factory or other workplace as a staff time clock or as a handy add-on to your machinery.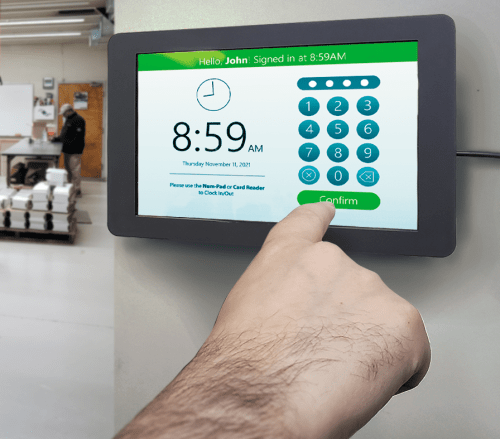 Time clocks have been instrumental in these settings in keeping track of employees' hours for over a century. Originally, they were mechanical devices that required employees to punch time cards (punch clocks) that displayed the date and time of their clocking in and out. Over the years, they have gone digital.
A tablet paired with a LAVA Enclosure makes the perfect pairing here. You can mount the Enclosure to a stand or wall near the entrance. Staff can tap in their credentials on the tablet's touchscreen to clock in or out of work. Or you can streamline the process by adding a scanner or card reader via the Enclosure's USB-A ports. This way, your employees can sign in with their fob or keycard. You can conceivably even have the keycard or fob unlock the entrance at the same time if the door has an electronic lock. Though, this requires some extra installation expertise and LAVA IoT modules.
Our Enclosures can also be used for retrofitting your forklift with a tablet. LAVA's non-PoE Enclosures feature voltage converters. They can take a higher DC input than a mobile device can handle on its own. The Enclosures for Samsung tablets can take a DC power input of 9-36 volts and step it down to 5 volts for use with the tablet. This means the Enclosure can be wired directly into 12-volt electrical system, such as one provided by a forklift. This does not apply to the K10 Batteryless Enclosure for the Lenovo Tab K10 Batteryless tablet, which needs at least a 15-volt DC power input. For applications needing the K10 Batteryless tablet and automotive or other 12V sources, please contact LAVA.
With a connected forklift, you can use the tablet to manage your supply chain, shipments, keep track of inventory, schedule maintenance and more. Since you will likely drive the forklift around the warehouse to do these activities, you probably won't use Ethernet here. However, the tablet's Wi-Fi can still keep you connected to the network, if needed.
Digital Signage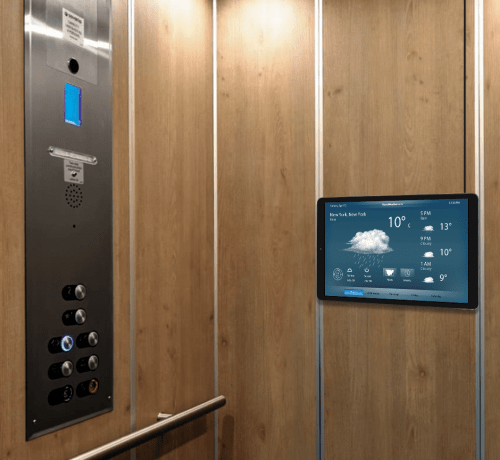 A LAVA Enclosure can turn your tablet-based digital signage into a winner. They can be mounted on a stand or wall in an office, mall, or any other public or semi-public space. Its content can be updated in real-time over the Enclosure's Ethernet connection
Our PoE Enclosures let you set up digital signage in places with limited access to power. Most commercial buildings already have the infrastructure for Ethernet, if not PoE, which lowers the cost of installation. Note: an Ethernet signal can be converted into PoE with a third-party injector or PoE-capable switch.
The other advantage of using a LAVA Enclosure for your digital signage is that it can run indefinitely. No one wants to set up digital signage that needs to be unplugged daily to keep it from overcharging. All of these Enclosures can be used 24/7 thanks to battery protection for the Samsung tablets and the Lenovo tablet being batteryless.
For more about LAVA's expertise about Digital Signage, read What You Need to Know Before Building Digital Signage.
Which Enclosure is right for you?
LAVA has released new Enclosures, with built-in simultaneous power and data adapters, for the Samsung Galaxy Tab A8, the Galaxy Tab A7 Lite and the Lenovo Tab K10 Batteryless. They all feature Ethernet and can be used in 24/7 applications. However, there are additional options for PoE and up to two USB-A ports for USB accessories depending on your purchase.
Ultimately, which one you want to use comes down to what kind of use case you have in mind and what tablet you are leaning towards for your installation. If you want a larger screen, you should check out our A8 and K10 Batteryless Enclosures. Both the accompanying tablets have displays larger than 10 inches. However, if you are looking for something more compact, the A7 Lite Enclosures may be more up your alley. It uses an 8.7-inch tablet
If you're unsure about what would best suit your needs, reach out to our team by email at sales@lavalink.com or by phone at 1-416-674-5942 to discuss your options.
Also check out LAVA's website for more information on the different options available and the specifications of each product.
Subscribe to LAVA's Newsletter and stay up to date on the latest company news, new product releases, and tech industry insights.