Introducing eSynC and nSynC
By: Adam Swimmer
4 Min Read
12 Apr, 2022
To celebrate the redesign of the SimulCharge website, LAVA's USB-C Enterprise adapters have undergone a rebranding.
Going forward, the SynC+ adapters will be known as eSynC. They still provide simultaneous charging and access to data and the port configuration options remain the same. You can still get them with wired Ethernet connectivity and/or multiple USB-A ports for peripherals and still come in three power options: Power over Ethernet, 9-36 VDC power and 5V power.
This name change is to show the direct relationship between this eSynC product family and the eSTS adapters for Samsung Micro USB mobile devices. They both offer the same advanced features, including Network Recovery & Battery Modulation (RBM) technology.
Meanwhile, the SynC line, offering the same functionality as the nSTS and nLTS product families, will now be known as nSynC.
Go to LAVA's new SimulCharge website to find out more about our adapters and their underlying technologies.
Featured Product of the Month
eSynC-PE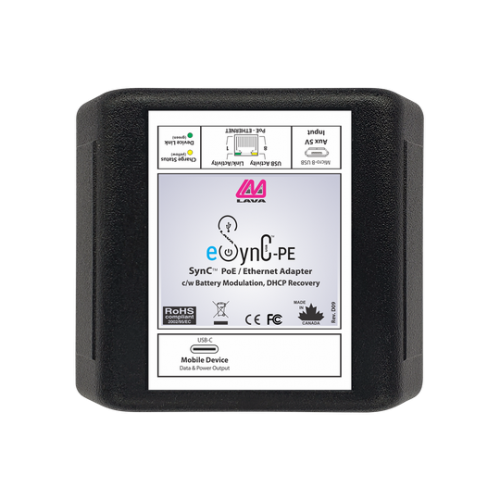 LAVA's eSynC-PE provides compatible USB-C tablets and smartphones with simultaneous charging and access to data.
With Power over Ethernet (PoE), the Enterprise SimulCharge adapter provides both power and wired network connection over the same cable. PoE also allows the adapter to be installed up to 328ft from the PoE-capable network switch or injector.
The eSynC-PE also features RBM technology for 24-hour operational use.
The eSynC-PE is ideal for digital signage, information kiosks, in-store retail displays and other 24/7 tablet-based applications.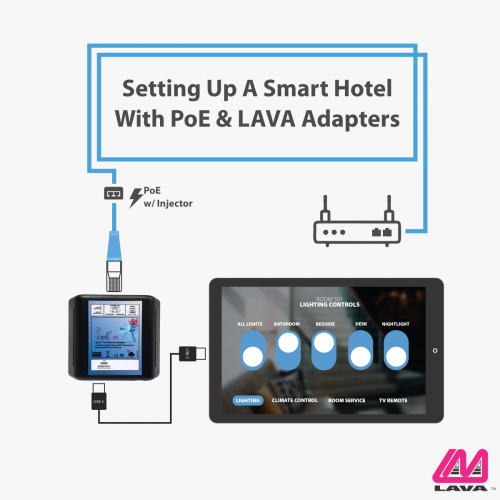 Smart hotels are somewhat of a niche market and you might feel setting one up is too expensive. However, hoteliers can leverage their business with the use of Power over Ethernet (PoE) to set up their smart technology.
With PoE, they can reduce the building's energy consumption making it more eco-friendly and saving thousands in labour costs from hiring electricians.
Using PoE-capable LAVA SimulCharge adapters, such as an eSynC-PE, and the right tablets, one can easily get started without breaking the bank.
In Case You Missed It…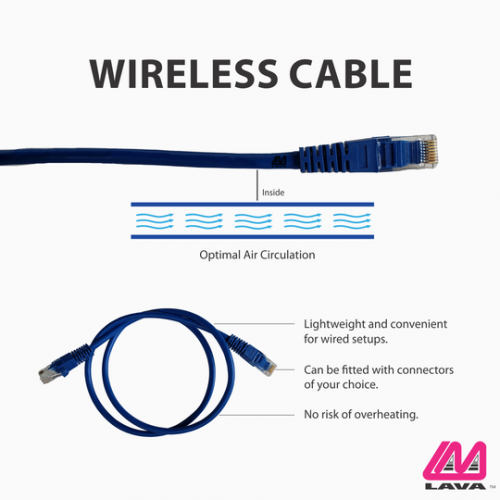 On April 1, LAVA introduced a revolutionary new product that brings cable management into the 21st century: the Wireless Cable.
The lightweight cable provides all the convenience of a wired setup with the dependability of a wireless one. It features a specially treated oil-resistant polyvinyl chloride thermoplastic sheath surrounding a pocket of air for improved circulation.
This universal cable can be fitted with connectors of your choice, for use with any port on your device. You never need to worry about the Wireless Cable overheating or shorting out and it won't ever lose a connection. For data access, please turn on your device's Wi-Fi or Bluetooth.
LAVA SimulCharge Around the World
This month, we are proud to have shipped SimulCharge adapters to customers in Canada, the United States, Sweden, Estonia, Chile, South Korea, Ireland, Singapore, Belgium, Netherlands, and Spain.