Charge Your Tablet Quicker with LAVA's New Fast-Charging Adapters
By: Adam Swimmer
6 Min Read
April 24, 2023
LAVA's eSynC-F and nSynC-F fast-charging adapters are a variation on our popular eSynC and nSynC SimulCharge adapters. Like their counterparts, they provide simultaneous charging and data to select USB-C mobile devices. They can get your regular tablet to a full charge before you even say its full name. Well, okay not quite that fast – but faster than a standard charger. For your larger tablets, the likes with 11-inch, 13-inch, or even larger screens, these adapters will be able to provide enough power to ensure your mobile device operates throughout its required work period.
The fast-charging adapters are available in various port configurations. This includes Power over Ethernet (PoE), Ethernet, multiple USB-A ports for USB accessories. In addition, eSynC-F adapters also feature LAVA's RBM technology, which combines robust battery protection with wired Ethernet recovery.
Benefits of fast-charging adapters
The main advantage of LAVA's new adapters is right in the name: "fast-charging." Their capability to provide both 9V fast-charging and 5V standard charging means your device will be receiving more power than it would through a regular charger. For mid-tier and entry-level devices, the adapter acts a faster charger. For premium devices or ones with larger screens, the extra voltage provides a more reliable charge.
With premium tablets, such as the Samsung Galaxy Tab S series, their processors draw a lot of power. A larger-than-average display can also require more power, especially when the brightness level is high. For these reasons, it can be difficult to charge one of these tablets at 5 volts. The battery might continue to drain even though it is plugged in. Or it might charge – but very slowly. LAVA's fast-charging adapters' 9-volt charging solves this issue and helps permanent tablet applications stay powered.
This makes the eSynC-F and nSynC-F fast-charging adapters useful in situations where the mobile device needs to reach a full charge in a short period of time.
All about PoE and fast-charging
Like other SimulCharge products, the eSynC-F and nSynC-F fast-charging adapters come in multiple port configurations. You can get them with PoE, Ethernet and/or multiple USB-A ports to attach scanners, card readers or any other USB accessories you need.
PoE combines power and Ethernet over the same cable and allows you to install the adapter up to 328ft (100m) from the PoE-capable network switch or adapter. This gives you more options on where to put the tablet.
LAVA's non-PoE adapters have a built-in voltage converter that can handle DC power inputs ranging from 12 to 36 volts. The voltage is then stepped down to either 9 or 5 volts, making it suitable for use with the tablet. When a 36-volt power supply is used, you can even charge the tablet at a distance. Further, you can plug these voltage converter adapters directly into 12- and 24-volt electrical systems found on vehicles, such as cars or forklifts, making them ideal for automotive applications.
Battery protection and more with eSynC-F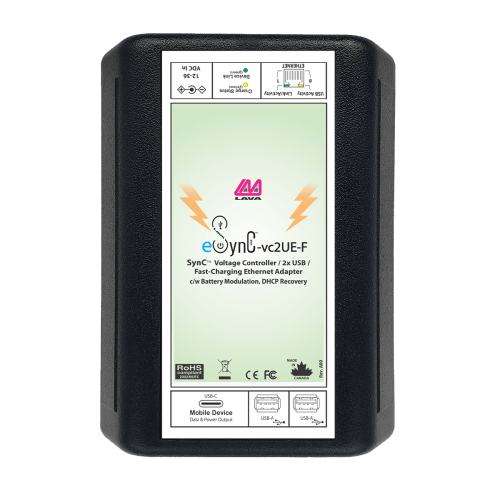 The eSynC-F adapters also include RBM technology, which is found in our other e Series SimulCharge products. It has two key features. Battery Modulation protects the mobile device from overcharging and its battery from swelling (aka bloating). Network Recovery adds extra reliability to the adapter's Ethernet connection (if it has one).
RBM is a hardware-software solution that works in tandem with the LAVA Tablet Manager (LTM) app, which can be downloaded from the Google Play Store. Through the app, you can set upper and lower charging percentages for the mobile device. Note – the default settings are 75% and 45%, respectively.
With Battery Modulation enabled, the mobile device will charge to the upper threshold. Then, the adapter will turn off charging while keeping the data connection intact so Ethernet and peripherals aren't affected. The adapter will then let the device discharge until it hits the lower percentage threshold. At this point, a new charging cycle begins.
This keeps the mobile device from overcharging even if it is left plugged in overnight or even indefinitely, keeping the lithium-ion battery healthy and extending its lifespan up to 6+ years.
Another feature of RBM is Screen Brightness Management. Through the LTM app, you can set daytime and night-time brightness levels – essentially allowing you to dim the display off hours. This both reduces heat generation from the tablet and puts less strain on the battery.
Network Recovery
The Network Recovery feature provides an extra layer of stability to the wired network connection. If there is an unexpected network dropout, the Ethernet portion of the adapter will automatically reset after a few minutes of lost connectivity. It's the equivalent of unplugging the Ethernet cord and plugging it back in. You can configure the intervals for how long the adapter waits before attempting a reset in the LTM app.
Use case examples
A LAVA customer in the energy sector leveraged Samsung Galaxy Active3 (SM-T577) and Active Pro (SM-T547) tablets with docks to control machinery. Because the staff also needs to carry these rugged tablets with them throughout the day, they rely on the battery power of the devices. If the tablets aren't fully charged before they are taken off the docks, they have a high chance of running out of battery during the day. To solve this issue, the company is looking to the tablets with LAVA's fast-charging adapters. They will allow the tablets to charge faster and more efficiently. They are more likely to have a full or nearly full charge throughout the day. This reduces downtime and improves productivity.
Other possible use cases could be seen in the hospitality and entertainment industries. By connecting the adapter to a tablet, staff can charge and access USB peripherals, such as card readers, ticket scanners and receipt printers. Event staff can use the tablet as a versatile POS system for checking or selling tickets to concerts or festivals. Meanwhile, those in the restaurant and hospitality industry can manage orders and check-ins more easily. If disconnected, the tablet's charged battery could be used for other business needs, making it a practical choice for professionals looking to juggle between stagnant and on-the-go workplaces.
Concerns about fast-charging
It should be noted that while it's convenient to fast-charge your tablet, you shouldn't do it all the time. Continuous fast-charging can lead to faster battery degradation, so LAVA encourages only using these adapters occasionally or where appropriate.
For permanent installations, you can check out our eSynC and nSynC adapters which offer all the same functionality as the new eSynC-F and nSynC-F adapters minus the fast-charging. These adapters charge your tablet at 5 volts DC, putting less stress and heat on the battery.
If unsure, reach out to our team at sales@lavalink.com and we will be happy to provide you with guidance to a solution that works for your case best.
Final thoughts
LAVA's fast-charging adapters allow you to quickly charge your mobile device or provide the additional power to operate tablet applications with larger screens. This will lead to a more productive workday in any environment you use your tablets.
Not all USB-C mobile device are compatible with our SimulCharge adapters, please see eSynC and nSynC compatibility pages, respectively. For more information, check out the products for yourself on LAVA's website. Or reach out to our sales team directly at sales@lavalink.com or by phone at 1-416-674-5942.
Subscribe to LAVA's Newsletter and stay up to date on the latest company news, new product releases, and tech industry insights.