LAVA Unveils New Products
By: Adam Swimmer
5 Min Read
7 Jun, 2022
May was a busy month for LAVA as we unveiled multiple new enterprise products. At the top of the list are the Raven PoE Power Adapters. Available in four different configurations, the Raven Series can power and charge devices through a Power over Ethernet (PoE) connection.
The Raven adapters split PoE back into separate power and network data signals and send them to different ports. This allows you to power up to two devices over USB, while also providing a wired network connection to a device with its own Ethernet port, such as a desktop PC. (The Raven-A and uRaven-A feature USB-A ports, while the Raven-C and uRaven-C have USB-C ports.)
The uRaven adapters only feature one USB port but also offer battery protection through LAVA's Continuously Active Battery Modulation (CABM) technology. CABM protects your device's battery from overcharging and bloating and ensures the longevity of the mobile device.
LAVA also unveiled a new special project — the nSynC-Staging — this past month. Featuring SimulCharge, the adapter allows you simultaneously charge four different USB-C mobile devices and give them access to a wired network connection for software updates. The adapter also features an OTG mode where the mobile devices run off battery power but can still access the adapter's Ethernet connection.
Find out more about the Raven Series adapters and nSynC-Staging on LAVA's website.
Featured Product of the Month
uRaven-C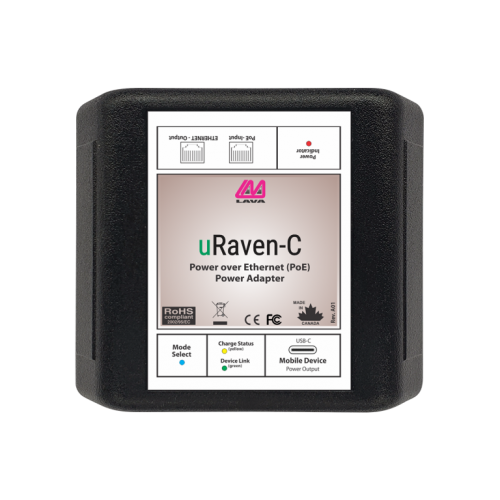 LAVA's uRaven-C PoE Power Adapter can charge a compatible USB-C mobile device over a Power over Ethernet (PoE) connection, while providing a wired network connection to a separate device via a separate LAN port.
PoE allows the adapter to be installed up to 328 ft (100 m) from the power source, providing more options for mobile device placement, including in areas where access to power is limited, such as festivals and other outdoor locations.
The uRaven-C also offers overcharge protection through Continuously Active Battery Modulation (CABM).
CABM mimics the ideal charging and discharging behaviour of a mobile device to ensure its battery remains healthy.
CABM monitors the mobile device as it charges. When this charge slows (indicating the device is near 100%) the adapter turns off charging.
The device is allowed to discharge over a preset number of hours before the uRaven-C automatically initiates the next charging cycle.
The uRaven-C does not work with all USB-C mobile devices, email LAVA at sales@lavalink.com or give us a call at 1-800-241-5282 for more information.
LAVA Blog Highlight:
Stage 4 Mobile Devices at Once with nSynC-Staging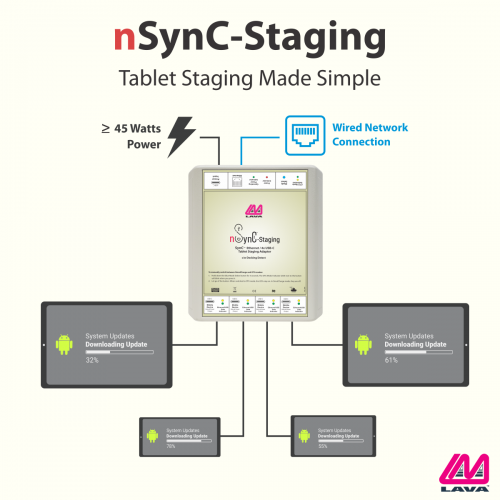 When tablets or smartphones are bought in bulk for kiosks and other applications, they often need to have software installed for the implementation to work properly.
LAVA's new nSynC-Staging adapter is specifically designed for this situation. It can simultaneously charge four compatible USB-C devices while also giving them access to a wired Ethernet connection for software downloads.
To continue reading the blog, click here.
SimulCharge Around the World
In May, we are proud to have shipped SimulCharge adapters to customers in Canada, the United States, Ireland, the United Kingdom, France, Belgium, Netherlands, Italy, Norway, Turkey, Singapore and Australia.