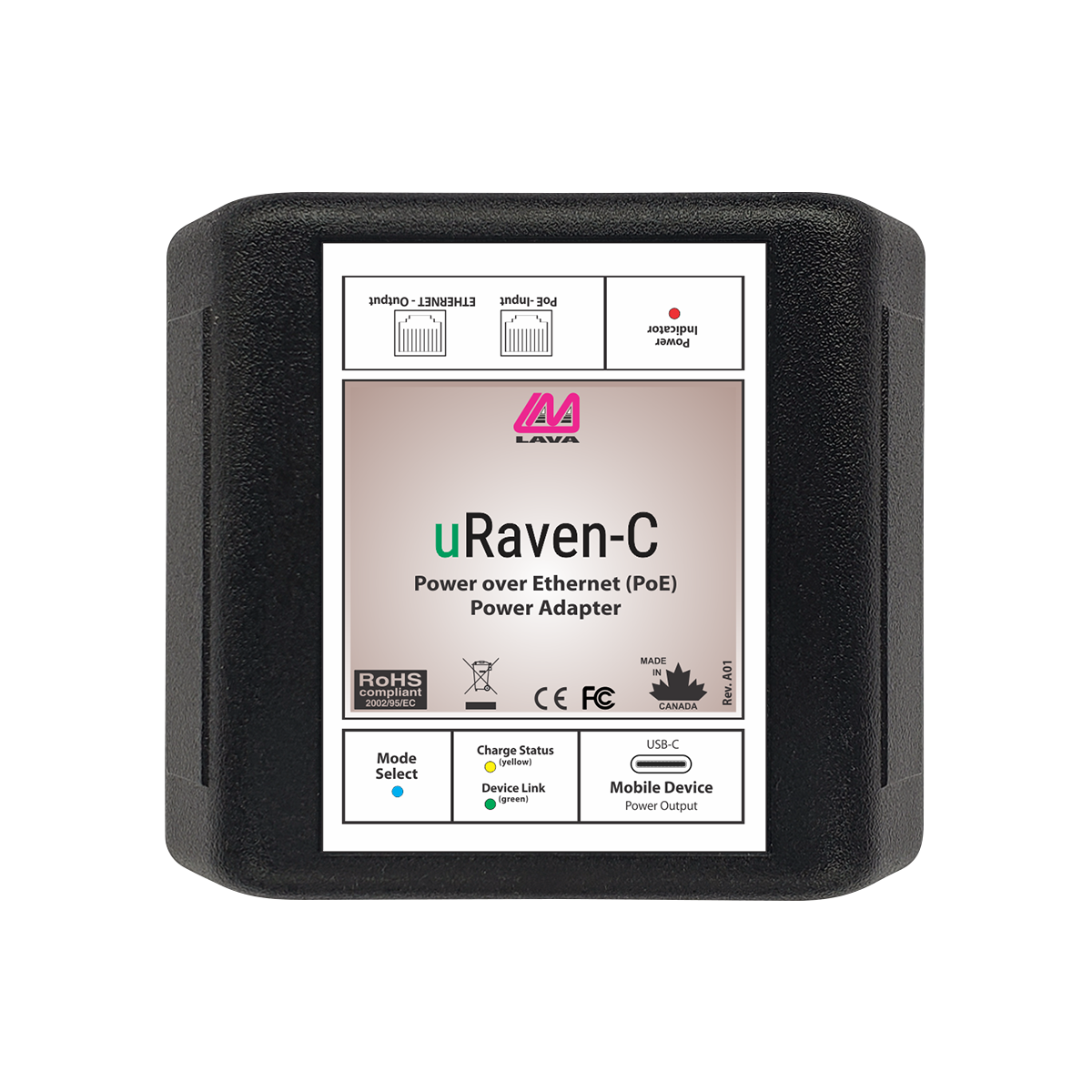 u

Raven-C

Power Adapter
Charge One Device over USB-C with Power over Ethernet and CABM
$74.99 / Web Price
LAVA's uRaven-C PoE Power Adapter splits the Power over Ethernet (PoE) signal in two. It sends power to a USB-C port on the device for powering a USB peripheral or charging a mobile device. The 10/100-capable network connection is sent to a second Ethernet port next to the PoE input.
The adapter provides up to 10 watts of charging power and uses a standard CAT5/5e/6 Ethernet cable connected to a PoE-enabled switch or injector rated for a maximum of 15.4 watts.
The power adapter also features Continuously Active Battery Modulation to protect the device from overcharging and prevent battery bloating, allowing for 24/7 operational use.
---
How the uRaven-C Works
LAVA's uRaven-C PoE Power Adapter splits power and network data from a Power over Ethernet (PoE) input. When the PoE signal travels into the device through an Ethernet port, the adapter strips off the power component and sends it to a USB-C port on the other side of the device. The unit acts a 9-volt DC regulated power supply, which can provide Fast Charging to certain mobile devices. The network portion of the signal can be accessed through a second 10/100-capable Ethernet port on the back of the device. It can be used to provide a wired network connection to a computer.
Power at a Distance with PoE
With PoE technology, the adapter does not require a dedicated AC source, as it is fully powered through its middle Ethernet port. PoE allows greater options for placement as the mobile device or peripheral can be used in areas with limited electrical outlets. It can be placed up to 328 ft (100 m) from the power source.
Plug-and-Play Battery Protection
Continuously Active Battery Modulation (CABM) is designed to protect the mobile device from overcharging and its battery from bloating, which can cause severe damage. The plug-and-play technology monitors the mobile device as it charges and when the current slows, indicating the device is near a full charge, the adapter disconnects charging power to the mobile device. The mobile device can still communicate with the USB port but the mobile device's battery is allowed to discharge. After a preset number of hours*, the mobile device will begin to charge again.
The power adapter's USB-C port allows you to connect a mobile device via a USB-C to USB-C cable**. If the USB-C mobile device is capable of Fast Charging, the adapter will charge it at 9 volts, 1.1 amps. Alternatively, it will be charged at 5 volts, 2 amps.
Any standard Ethernet Cat 5/5e/6 cable can be used with the power adapter but it is recommended to use one from a reliable dealer.
*The time between charges can be programmed using the adapter's blue Mode Select button.
**The USB-C to USB-C cables are sold separately.
---
System Requirements
POWER INPUT
Power over Ethernet (15.4W maximum) Appears as a Class 0 PoE Device
POWER OUTPUT
9V at 1.1A (Fast Charging) or 5V at 2A (dependent on mobile device's capabilities)
POWER SUPPLY
PoE-Capable Network Switch or Power Injector (up to 15.4W)
---
Specifications
CABLES
1 x Standard Ethernet Cat 5/5e/6 cable 1 x USB-C to USB-C cable (up to 6.6ft/2m)
Note: The cables are not included. However, the USB-C cables may be purchased from LAVA.
PORTS
1 x USB-C port (power output only: 9V at 1.1A or 5V at 2A) 1 x RJ45 LAN port (to wired Ethernet connection) 1 x RJ45 LAN port (to PoE Network Switch)
INDICATOR LEDS
1 x Power indicator LED 1 x Charge Status indicator LED 1 x Device Link indicator LED
CONFIGURATION
1 x Mode Select button
MEASUREMENTS
Depth: 3.3 inches (84 mm) Width: 3.8 inches (97 mm) Height: 1.7 inches (44 mm) – with standoffs Weight: 4.3 oz (122 g)
---
Features
Power over Ethernet (Class 0) Wired networking (10/100 Ethernet) support Continuously Active Battery Modulation (CABM) for tablet longevity Support for installations running 24/7 LAVA Limited Warranty
---
Applications
Providing power and Ethernet connectivity to USB-C security cameras Powering/Charging a USB-C Mobile Device Providing PC with Wired Network Connection
---
RELEVANT ARTICLES & INSIGHTS
---
---
Why We Use Power Over Ethernet (PoE)
24 March, 2021
At LAVA we love to find solutions for our customers. A challenge that often comes up is that there is a device that would benefit from using a SimulCharge adapter, but it is located nowhere near a power...
Your Questions Answered: SimulCharge FAQ
7 November, 2021
LAVA's SimulCharge adapters offer a great solution for businesses and consumers who need to be able to charge their mobile devices while using Ethernet and/or USB peripherals at the same time...
What is Battery Modulation Technology?
5 July, 2021
Contrary to popular belief, it's not only the big companies that come up with the greatest innovations. While others have tried to develop their own versions of this technology, LAVA was the first...