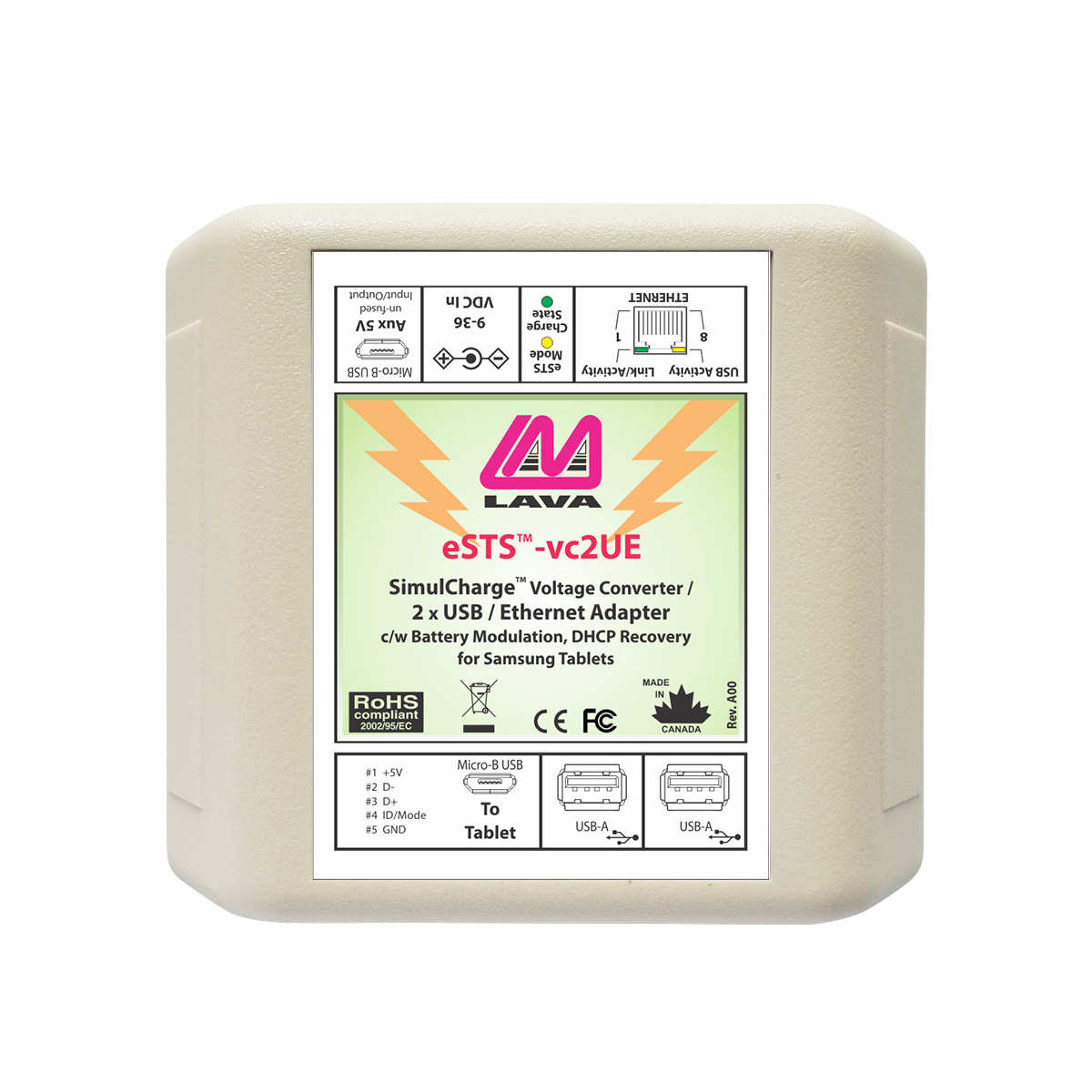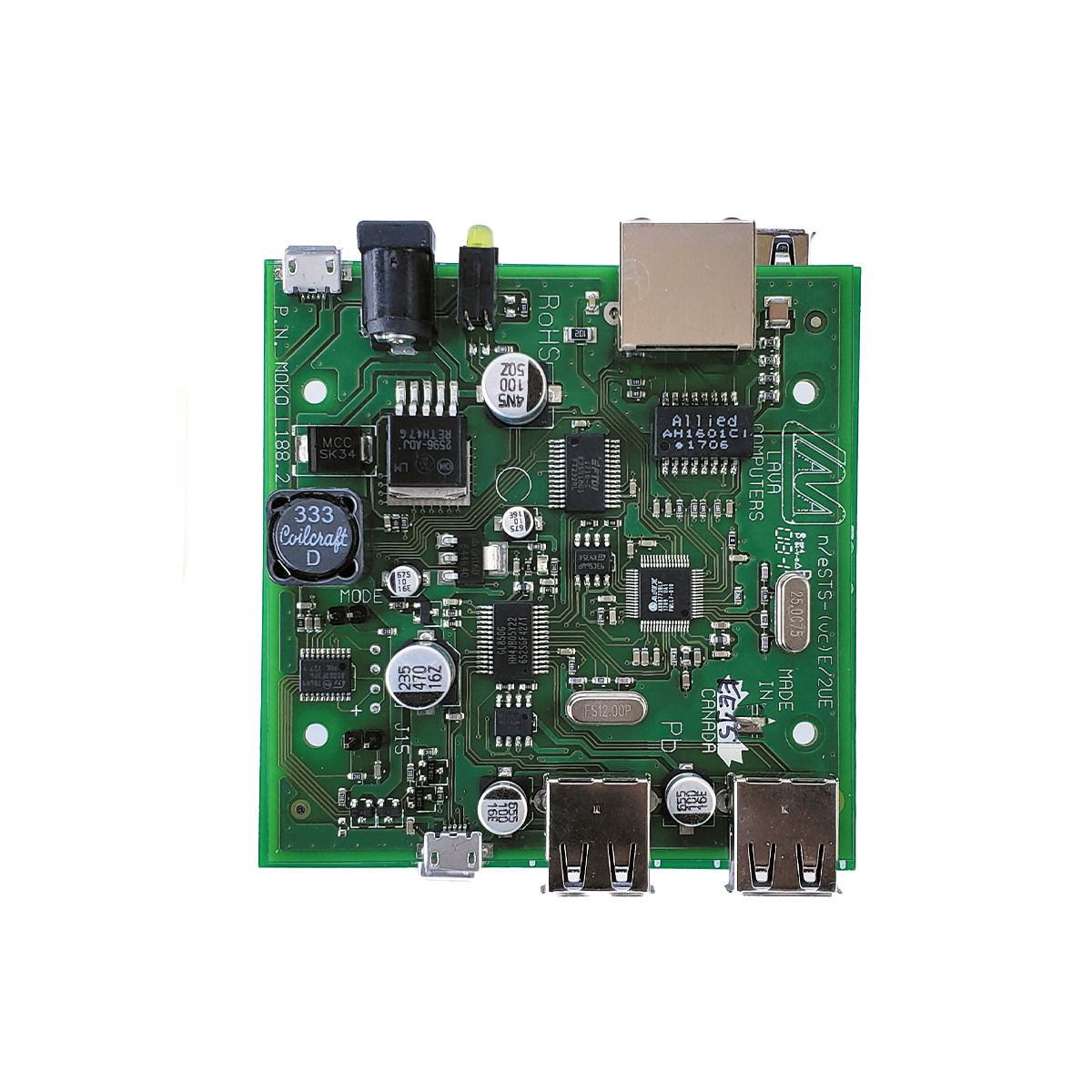 e

STS-vc2UE
SimulCharge™, Voltage Converter, Ethernet, 2 x USB Adapter with RBM Technology for Samsung Micro USB Mobile Devices
$109.99 / Web Price
The eSTS-vc2UE provides compatible Samsung Micro USB mobile devices* with SimulCharge™, a built-in voltage converter, Ethernet and two USB-A ports for peripherals. SimulCharge™ ensures the mobile device can simultaneously access the adapter's wired network connection and any USB peripherals attached to the adapter while it is charging. The adapter also features Network Recovery & Battery Modulation (RBM) technology.
Battery Modulation protects the mobile device's battery from constant overcharging, which can degrade the battery over time and shorten its lifespan. Meanwhile, Network Recovery can recover a wired Ethernet connection if it unexpectedly drops out.
The eSTS-vc2UE can use an external DC power source, ranging from 9 to 36 volts. The DC-DC converter steps down the input voltage to a device-friendly 5 volts for use by the eSTS-vc2UE and mobile device.
How the eSTS-vc2UE Works
The eSTS-vc2UE adapter provides compatible Samsung Micro USB mobile devices* with simultaneous charging and access to data (SimulCharge™). It features a built-in voltage converter, wired Ethernet connectivity, two USB-A ports for peripherals and RBM technology.
The eSTS-vc2UE's on-board DC-DC voltage converter can take a power input of between 9 and 36 volts** and steps it down to the 5 volts required by most mobile devices***. The adapter can be used to supply power in permanent and semi-permanent installations (adhering to local electrical codes) with minimal installation cost. This eliminates the requirement for a licensed electrician to install and run a dedicated AC power line.
Power at a Distance
The adapter can also be installed up to 50 ft (15 m) from the AC power source. This means it can be installed in locations with limited electrical outlets and provides greater options for mobile device placement.
The eSTS-vc2UE's Ethernet port provides a reliable 10/100-capable wired network connection and its USB-A ports allow you to connect up to two peripherals, such as a scanner and printer for a tablet kiosk setup.
Robust Battery Protection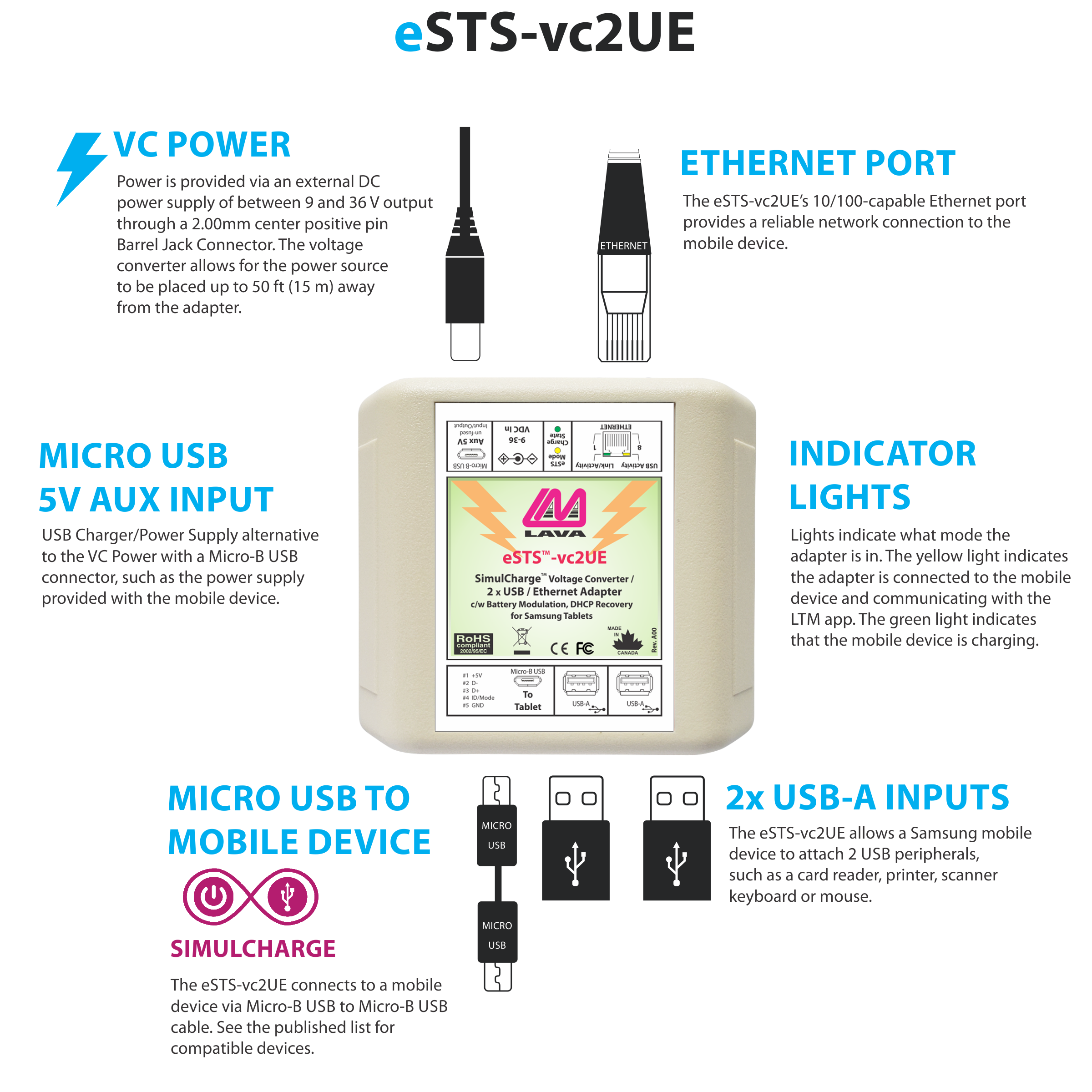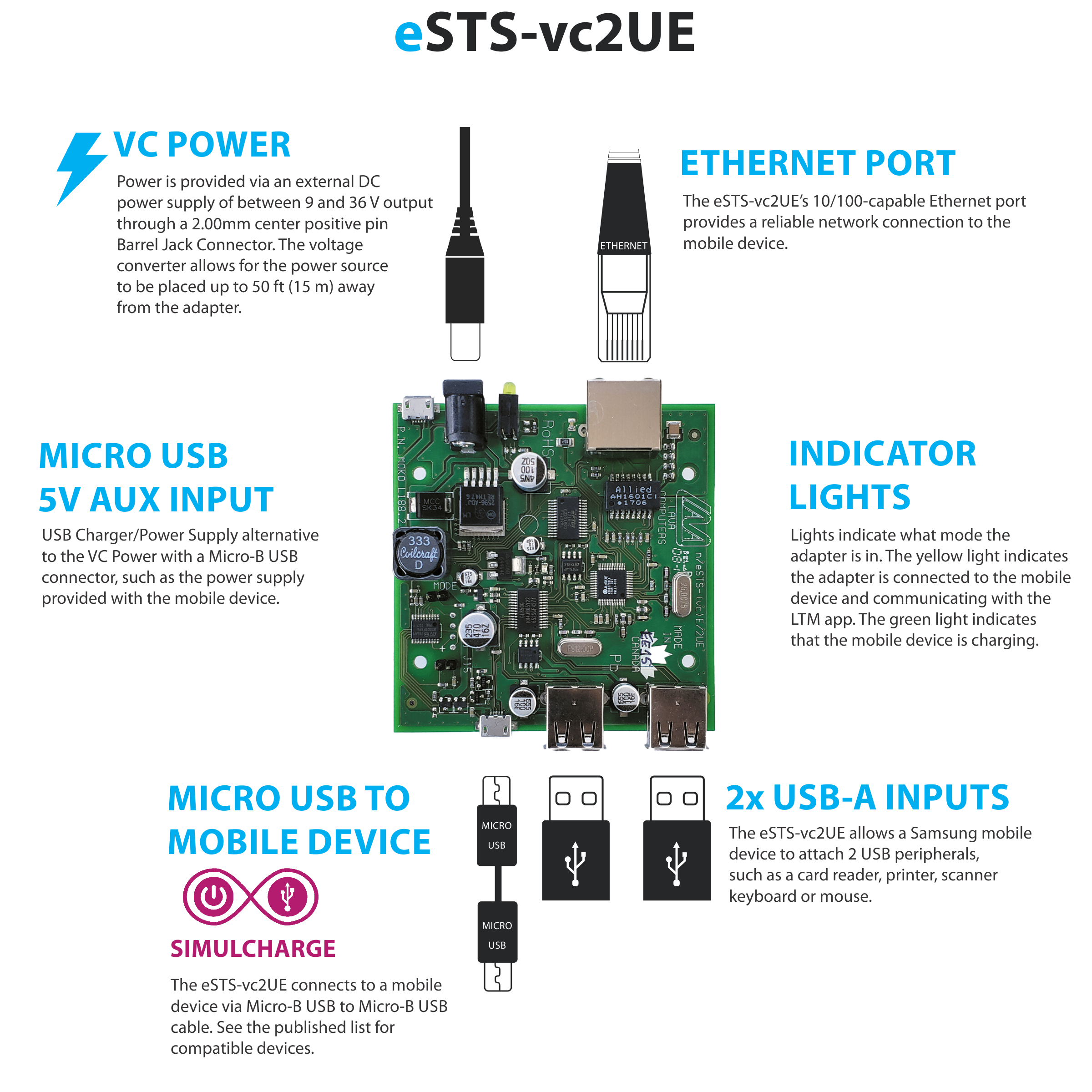 Battery Modulation protects the mobile device from overcharging and its battery from bloating, which can cause severe damage to the device. The LAVA Tablet Manager (LTM) app, installed on the mobile device, monitors the battery level and users can set upper and lower charging thresholds for the battery.
When the battery charges to the higher threshold, the adapter turns off charging and the mobile device is allowed to discharge until it hits the lower threshold. This ensures the battery never overcharges, even if it is left plugged in 24/7. Battery Modulation extends the lifespan of both the battery and device for a better return on investment.
Wired Network Recovery and Other Features
Network Recovery provides a failsafe system to recover the wired network connection if it drops out. If the connection is lost for more than a few minutes, the LTM app sends a command to reset the Ethernet portion of the adapter to re-establish the connection. It's the equivalent of unplugging the Ethernet cable and then plugging it back in. This feature is also configurable through the LTM app.
RBM also features Screen Brightness Management, which lets customers set a daytime and night-time brightness level through the LTM app, as a way to combat overheating. This allows for the mobile device to have a bright display during the day when the business is open and a dimmer display at night after it closes. The display is one of the biggest sources of heat for a mobile device. Excess heat puts additional strain on the battery and can also accelerate battery bloating. Dimming the display during off-hours significantly reduces its heat generation, prolonging the lifespan of the device.
The adapter comes with a casing and a Micro USB to Micro USB cable to connect the mobile device. This custom LAVA cable must not be extended or replaced with a third-party one. Doing so will cause the mobile device to stop working.
*The nSTS-vc2UE is not compatible with all Samsung mobile devices. Please see the list of tested Samsung devices.
**The 9-36V DC power supply is not included with the adapter and must be purchased separately.
***The tablet can also be powered through the adapter's Micro USB-B port, which is rated for the standard 5 volts at 2 amps. It is recommended to use the charging cable that came with the mobile device. A separate power supply is not included.
---
---
System Requirements
POWER SUPPLY
9-36V DC power supply with Barrel Jack connector (sold separately)
For auxiliary power, a USB charger/power supply with a Micro USB-B connector, such as the power supply provided with the mobile device. Any regulated 5-volt power supply capable of at least 2 amperes can be used.
---
Specifications
CABLES
1 x Micro USB to Micro USB cable (3.3 ft / 1 m) to the mobile device.

Note: The cable is included with the adapter.
PORTS/CONNECTORS
1 x Barrel (2 mm) DC Output Connector (Centre Pin Positive)
1 x RJ45 10/100 Ethernet port (LAN)
2 x USB-A ports (for USB 2.0 accessories)
1 x Micro USB-B port (for device connection)
1 x Micro USB-B port (the Aux. 5V input)
1 x Charge State LED
1 x eSTS Mode Status LED
1 x Ethernet Link/Activity LED
1 x Device USB Activity LED
MEASUREMENTS
Depth: 3.3 inches (84 mm)
Width: 3.8 inches (97 mm)
Height: 1.7 inches (44 mm)
Weight: 4.3 oz
---
Features
Simultaneous USB host and charging for
Samsung Micro USB mobile devices
Support for installations running 24/7
Wired Networking (10/100 Ethernet) support
Powered by a standard USB Charger or
AC/DC Power Supply
Prevents power drain from the mobile to USB peripherals in the event of power loss
2 x USB 2.0 Type-A ports
Voltage Converter allows for installation up to 50ft (15m) from the power source
LAVA Limited Warranty
No mobile device rooting required
---
Applications
POINT OF SALES
Product Catalogues
Price Checking
Line Busting & Ticketing
POS systems
Menus, order taking
Transportation & Logistics endpoints
Digital Signage
WORKFORCE MANAGEMENT
Conference Room Scheduling
Timecard
Dispatching
In-vehicle data capture
Virtual Concierge
Patient Check In
KNOWLEDGE SHARING
Web/Video conferencing
Trade Show Guides
Customer Surveys
Remote control
Way-finding
QUALITY CONTROL
Material tracking
Production
Scheduling
---
RELEVANT ARTICLES & INSIGHTS
---
---
Why We Use Voltage Converter (VC) Power
26 April, 2021
A fundamental rule for powering mobile devices is to never input a higher voltage than the maximum voltage the connected device can handle. If this occurs, you run the risk of seriously damaging your...
Your Questions Answered: SimulCharge FAQ
7 November, 2021
LAVA's SimulCharge adapters offer a great solution for businesses and consumers who need to be able to charge their mobile devices while using Ethernet and/or USB peripherals at the same time...
LAVA e Series Adapter Overview
03 October, 2021
SimulCharge technology allows select mobile devices, such as tablets and smartphones, to charge while simultaneously communicating with USB peripherals. With SimulCharge adapters...