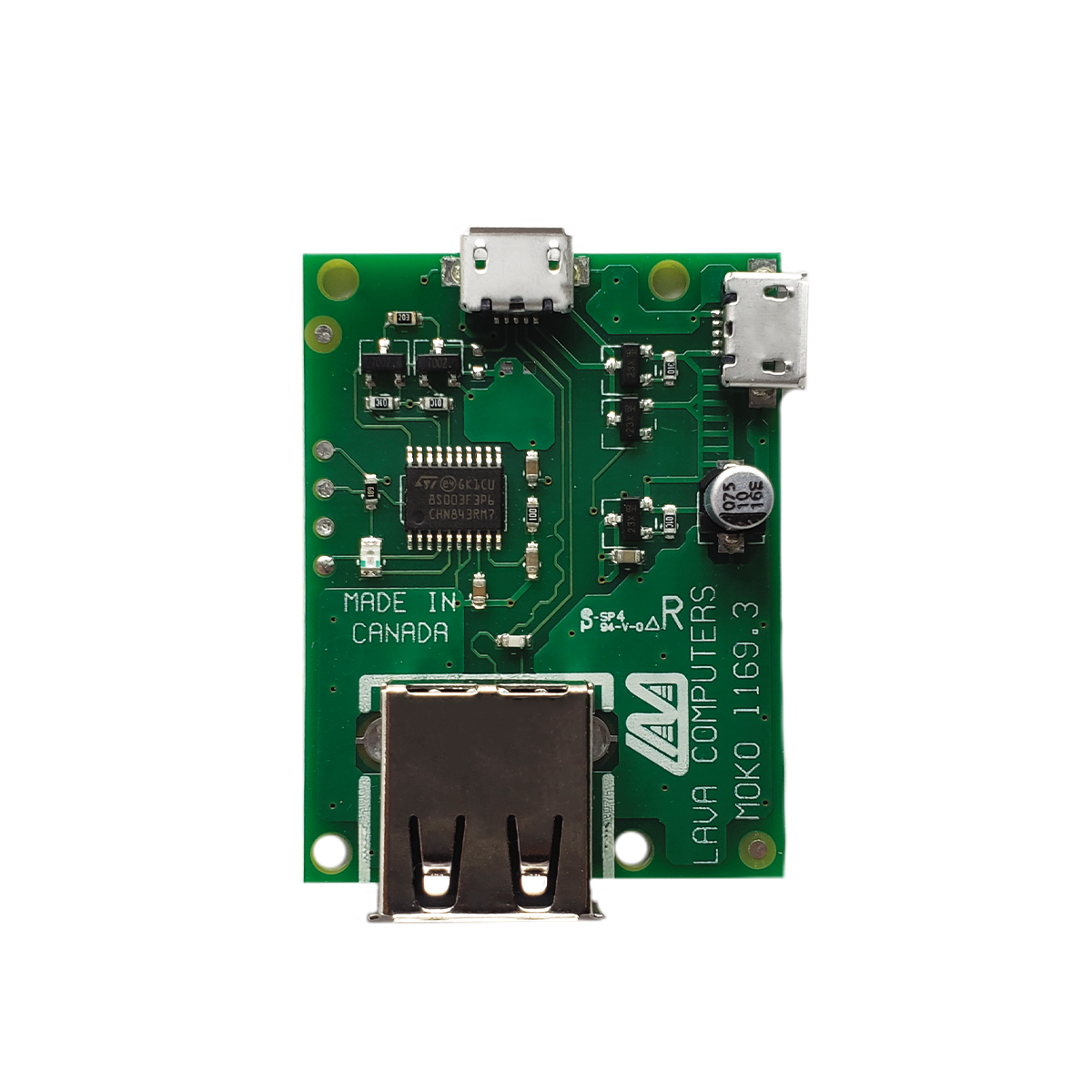 n

STS-1U-OEM
SimulCharge™, 1 x USB Board-Only Adapter for Samsung Micro USB Mobile Devices
$54.99 / Web Price
The nSTS-1U-OEM is a board-only adapter (no casing) that provides compatible Samsung Micro USB mobile devices* with SimulCharge™ and one USB-A port for a peripheral. SimulCharge™ ensures the mobile device can simultaneously access any USB peripheral attached to the adapter while it is charging. The adapter also features Docking Detect technology.
How the nSTS-1U-OEM Works
The nSTS-1U-OEM adapter provides compatible Samsung Micro USB mobile devices* with simultaneous charging and access to data (SimulCharge™). It features one USB-A port for a peripheral and Docking Detect technology.
The nSTS-1U-OEM's USB-A port allows you to connect a peripheral, such as a scanner or printer for a tablet kiosk setup.
Reliable Device Connection
Docking Detect ensures the "greeting" protocols between the SimulCharge™ adapter and mobile device are executed correctly and consistently every time they are connected. This allows the adapter to be a plug-and-play technology that ensures the mobile device always operates in USB Host mode.
The adapter has no casing (board only) but comes with a Micro USB to Micro USB cable to connect the mobile device. This custom LAVA cable must not be extended or replaced with a third-party one. Doing so will cause the mobile device to stop working.
The Micro USB-B power port is rated for the standard 5 volts at 2 amps . It is recommended to use the charging cable that came with the mobile device**.
*The nSTS-1U-OEM is not compatible with all Samsung mobile devices. Please see the list of tested Samsung devices.
** A separate power supply is not included.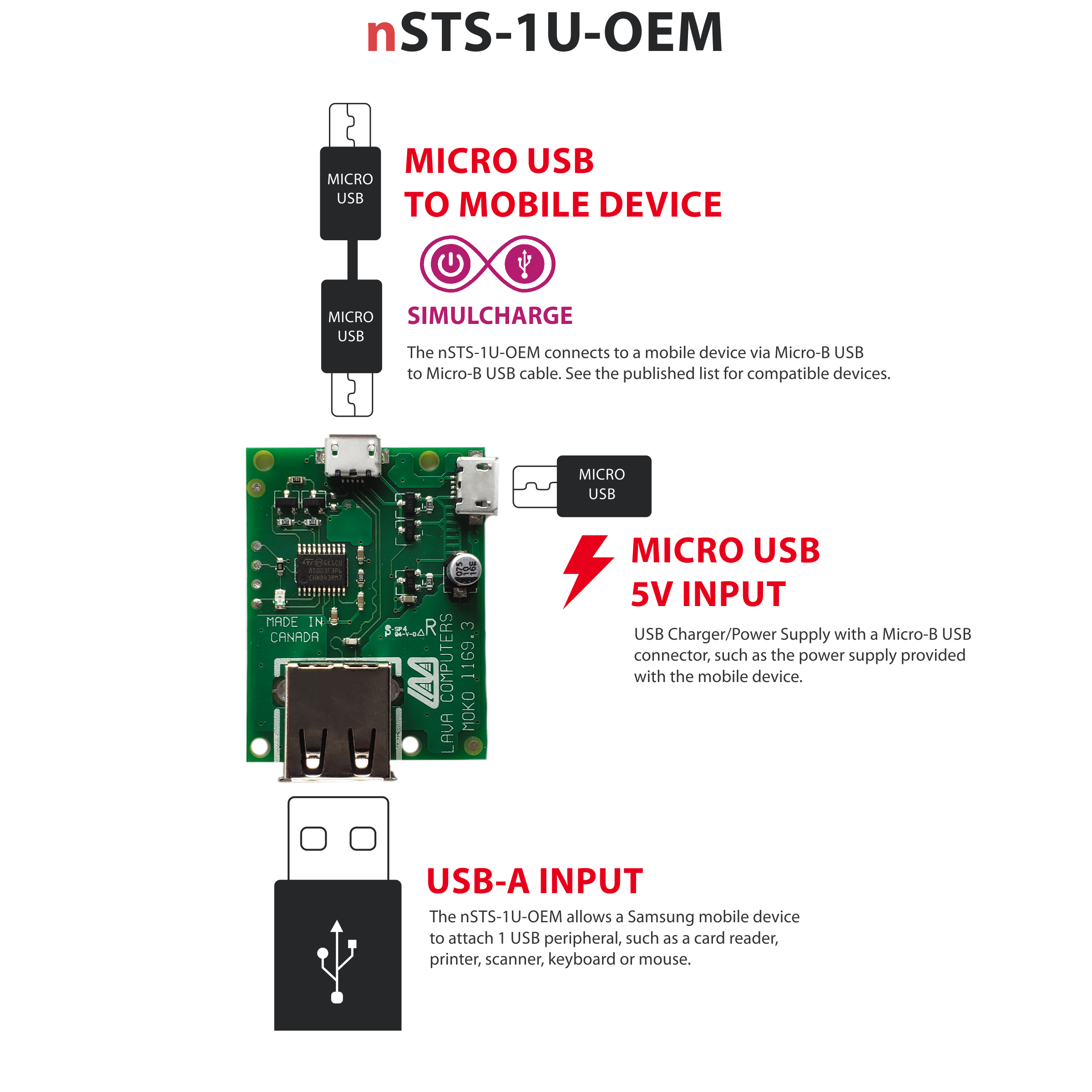 ---
---
System Requirements
POWER SUPPLY
USB charger/power supply with a Micro USB-B connector, such as the power supply provided with the mobile device.
Any regulated 5-volt power supply capable of at least 2 amperes can be used.
---
Specifications
CABLES
1 x Micro USB to Micro USB cable (8 in / 20 cm) to the tablet.

Note: The cable is included with the adapter.
PORTS/CONNECTORS
1 x USB-A port (for USB 2.0 accessories)
1 x Micro USB-B port (for device connection)
1 x Micro USB-B port (for power in)
1 x Charge State LED
MEASUREMENTS
Depth: 1.65 inches (42 mm)
Width: 1.27 inches (32 mm)
Height: 0.44 inches (11 mm)
Weight: 0.53 oz (15g)
---
Features
Simultaneous USB host and charging for
Samsung Micro USB mobile devices
Powered by a standard USB Charger
Prevents power drain from the mobile device to USB
peripherals in the event of power loss
1 x USB 2.0 Type-A port for an accessory
Compact size – board only
LAVA Limited Warranty
No mobile device rooting required
---
Applications
POINT OF SALES
Product Catalogues
Price Checking
Line Busting & Ticketing
POS systems
Menus, order taking
Transportation & Logistics endpoints
Digital Signage
WORKFORCE MANAGEMENT
Conference Room Scheduling
Timecard
Dispatching
In-vehicle data capture
Virtual Concierge
Patient Check In
KNOWLEDGE SHARING
Web/Video conferencing
Trade Show Guides
Customer Surveys
Remote control
Way-finding
QUALITY CONTROL
Material tracking
Production
Scheduling
---
RELEVANT ARTICLES & INSIGHTS
---
---
LAVA Launches nSTS Connectivity Adapters for Samsung Micro USB Mobile Devices
25 April, 2017
The new line of nSTS adapters supports a plethora of power options from USB Power Brick, PoE and AC Power Brick...
Your Questions Answered: SimulCharge FAQ
7 November, 2021
LAVA's SimulCharge adapters offer a great solution for businesses and consumers who need to be able to charge their mobile devices while using Ethernet and/or USB peripherals at the same time...
LAVA n Series Adapter Overview
26 September, 2021
LAVA's n series adapters are entry-level SimulCharge devices. These adapters are available for select Samsung and Lenovo mobile devices. This article will provide an overview of the underlying...