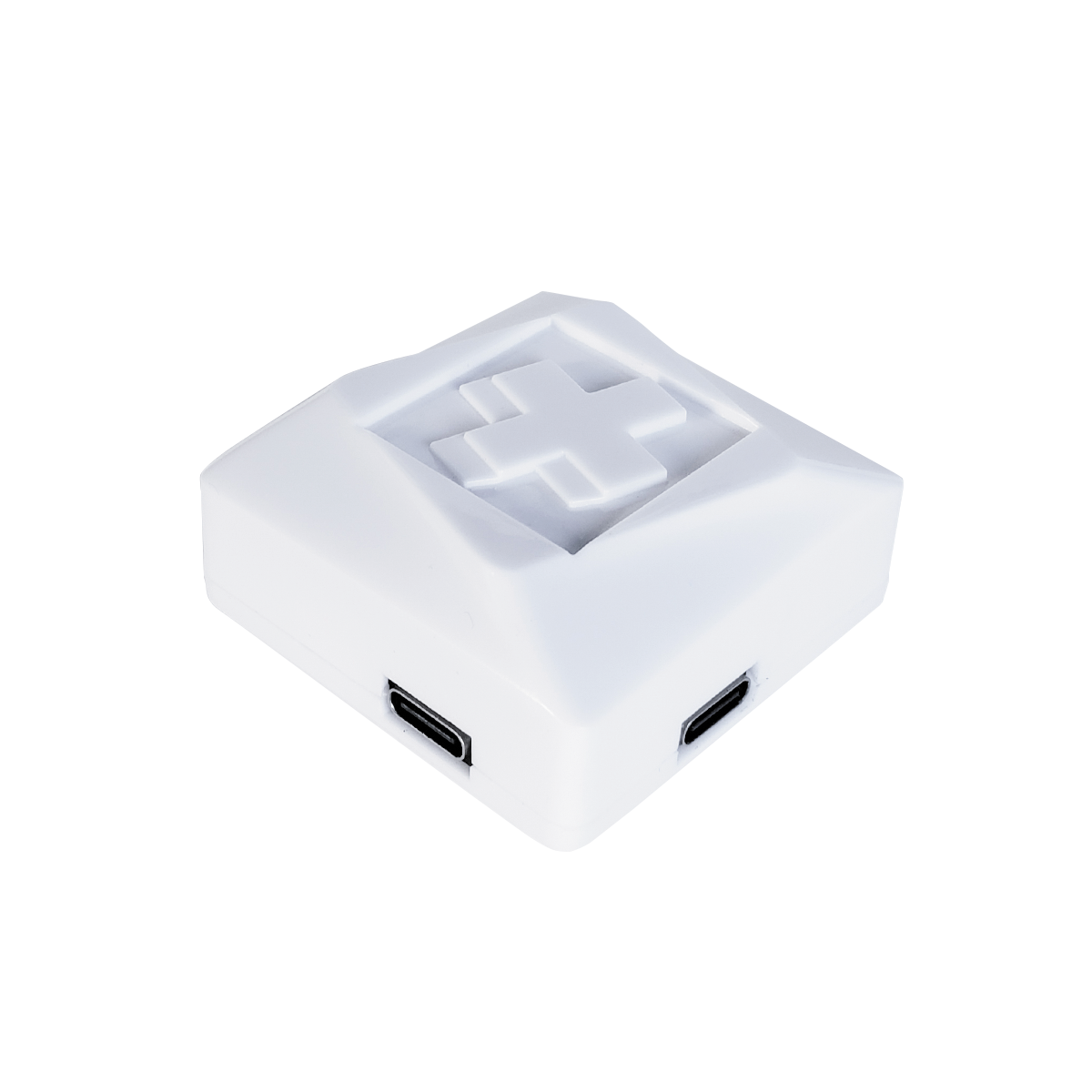 u

SynC-1U MINI
SimulCharge™, 1 x USB with CABM for Samsung USB-C mobile devices
$69.99 / Web Price
The LAVA uSynC-1U MINI adapter is a special order mid-tier SimulCharge™ adapter designed for use with select USB-C Samsung tablets and smartphones. The adapter is compact, easily portable and comes with one USB-A port for a peripheral, such as a scanner or card reader. It also features Continuously Active Battery Modulation (CABM) technology to protect the lithium battery from overcharging and bloating, which can cause irreparable harm to the device. The uSynC-1U MINI is ideal for commercial applications where portability and battery protection are paramount.
How the uSynC-1U MINI Works
The uSynC-1U MINI can be used in various industries where a compact adapter with a casing is desired to help keep their mobile devices charged and protected from overcharging. In the medical field, for example, the adapter can be connected to a tablet with patient information or other clinical data. A USB peripheral, such as a scanner or blood pressure cuff, can be attached to perform checkups on the patients. The device's small form factor also makes it portable so it can be shipped alongside a tablet to other locations if needed.
Plug-and-Play Battery Protection
The adapter also features CABM technology, which is designed to protect the mobile device from overcharging and its battery from bloating. CABM is a plug-and-play form of Battery Modulation. It works out of the box and requires no additional software to run, making it easy for anyone to use, regardless of their technical background.

CABM monitors the mobile device as it charges and when the current slows, indicating the device is near a full charge, the adapter disconnects charging power to the mobile device. The mobile device can still communicate with the USB port but the mobile device's battery is allowed to discharge. After a preset number of hours, the mobile device will begin to charge again. This allows users to keep the mobile device plugged in for extended period of time without fear of damaging its battery.
Reliable Device Connection
Docking Detect ensures the "greeting" protocols between the SimulCharge™ adapter and mobile device are executed correctly and consistently every time they are connected. This allows the adapter to be a plug-and-play technology that ensures the mobile device always operates in USB Host mode.
The uSynC-1U MINI comes with two USB-C ports, one to connect to the mobile device, the other to connect with the power source. Any regulated 5-volt power supply capable of minimum 2 amperes can be used. It is recommended that the power supply and cable provided with the mobile device be used to power the adapter. It does not ship with a USB-C to USB-C cable as standard, to connect the adapter to the mobile device, but it can be purchased from LAVA or third-party suppliers.
---
Specifications
PORTS
1 x USB-A port (for USB 2.0 accessories)
2 x USB-C ports (power input and to tablet ports)
Note: USB-C to USB-C cable not included but can be purchased from LAVA.



Specification Sheet
POWER INPUT
2 Amps at 5 Volts

---
Features
Designed for select Samsung USB-C mobile devices
USB host operation while charging (SimulCharge)
Continuously Active Battery
Modulation (CABM) for mobile device overcharge protection
Support for installations running 24/7



Feature Sheet
1 x USB-A (USB 2.0) Port
Compact size
Option to use original power brick
Docking Detect
No mobile device rooting required
LAVA Limited Warranty
RELEVANT ARTICLES & INSIGHTS
---
---
Small SimulCharge adapters aid medical tech company's heart implant device
9 December, 2021
A cardiovascular implant company, was using Samsung Galaxy Tab S2 tablets to act as human interface devices to communicate with a proprietary heart implant...
LAVA u Series Adapter Overview
5 December, 2021
LAVA's u series adapters are mid-tier SimulCharge devices. You won't find most of the products advertised on our website but you can reach out to us if you have any inquiries. This article will provide an overview of these adapters...
The Origin of the uSTS-1U MINI and uSynC-1U MINI
2 December, 2021
At LAVA, we pride ourselves in creating devices that fit our client's needs. This article will showcase the origin of the uSTS-1U MINI and uSynC-1U MINI, which were created for a customer in the teleheath...
Introducing the uSynC-1U MINI and uSTS-1U MINI!
1 December, 2021
Developed as a special project for a medical company, the uSynC-1U MINI and uSTS-1U MINI are small, easily portable adapters that provide simultaneous charging and data, have CABM technology...