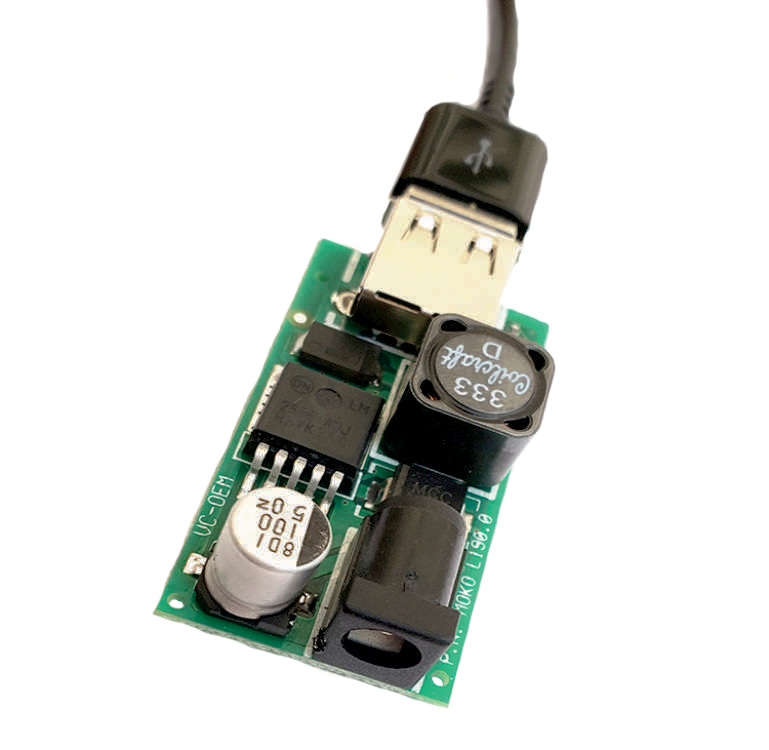 VC-OEM
Power Adapter for Mobile Devices
$34.99 / Web Price
The VC-OEM allows you to place a mobile device up to 50ft (15m) away from an AC power source while fully charging the device. This allows mobile devices to be installed in locations where there are no easily accessible AC outlets or in environments where extension cords or dedicated AC lines are prohibited, inconvenient or expensive. The VC-OEM is ideal for retail, hospitality, and digital signage applications.
How the VC-OEM Works
The simple plug and play nature of the VC-OEM makes it an easy low cost alternative to Power-Only, Power over Ethernet (PoE) setups. This eliminates the need for complex and expensive Power Injectors or PoE capable network switches, in order, to place mobile devices in isolated or far off locations.
Since the VC-OEM operates at or below 36 Volts DC, it can be used to supply power in permanent and semi-permanent installations (adhering to local electrical codes) with minimal installation cost. This eliminates the requirement for a licensed electrician to install and run a dedicated AC power line.
The VC-OEM uses an on board DC-DC voltage converter that takes the input 9-36 VDC power and steps it down to the 5 Volts required by most mobile devices.
Power at a Distance
The USB-A port located on the power adapter allows you to connect any standard charging cable (use of the cable originally supplied with the mobile device is recommended) to the VC-OEM. This makes the VC-OEM a universal power adapter that is able to supply 2 Amps at 5 Volts to any mobile device from up to 50 feet away from the main AC power source.
*Apple users will only be able to draw 0.5 Amps at 5 Volts (2.5 Watts) of power).
OEM Designation
The OEM designation on the power adapter means that the unit is sold without a casing (board only) and in the smallest size possible. This allows the VC-OEM to be easily integrated into casings, enclosures, existing installations, and tight areas where space is at a premium.
*Please Note: The VC-OEM is designed to generate minimal amounts of heat (so as not to cause damage to its surroundings). However, the adapter may get slightly warm to the touch during operation.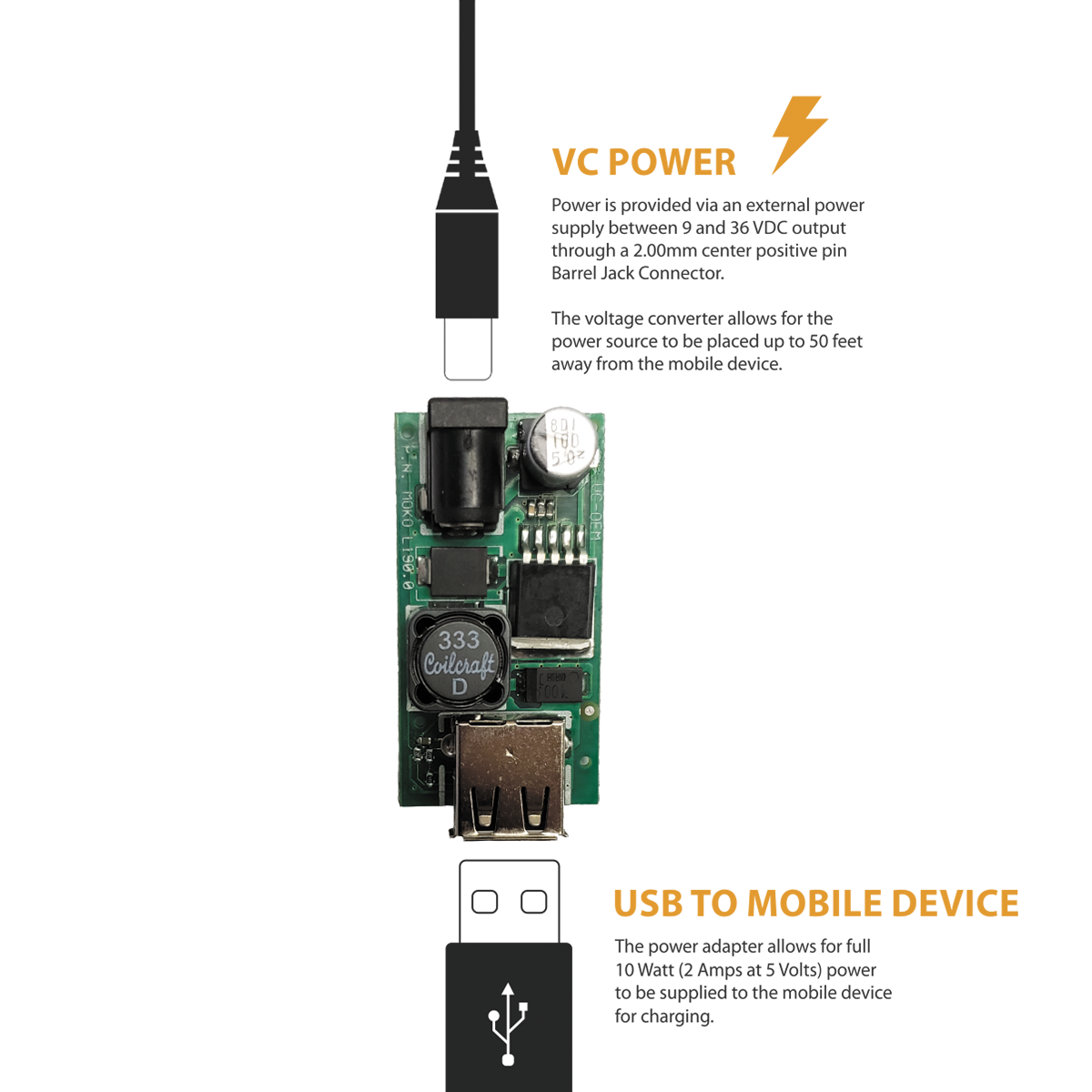 ---
---
System Requirements
Product Sheet
---
Specifications
CABLES
Cables sourced separately
Note: It is recommended that the cable provided with the mobile device be used



Specification Sheet
PORTS
1 x USB A port (power output)
1 x Barrel Jack Connector, 2.0mm Centre Pin Positive (power input)
POWER INPUT
Between 9 - 36 VDC
Note: Recommended that a power supply of at least 10 Watts power output is used
POWER OUTPUT
2 Amperes at 5 Volts (10 Watts) maximum
---
Features
Device power up to 50 ft (15m) from AC source
Universal mobile device compatibility
No casing (board only)
Designed for commercial/OEM use
Built-in voltage converter
LAVA Limited Warranty



Feature Sheet
---
Applications
POINT OF SALES
Product Catalogues
Price Checking
Line Busting & Ticketing
POS systems
Menus, order taking
Transportation & Logistics endpoints
Digital Signage
WORKFORCE MANAGEMENT
Conference Room Scheduling
Timecard
Dispatching
In-vehicle data capture
Virtual Concierge
Patient Check In
KNOWLEDGE SHARING
Web/Video conferencing
Trade Show Guides
Customer Surveys
Remote control
Way-finding
QUALITY CONTROL
Material tracking
Production
Scheduling
RELEVANT ARTICLES & INSIGHTS
---
---
The VC-OEM Motorcycle Mount Project
17 August, 2021
We documented each step in developing the VC-OEM Motorcycle Mount on social media! Read about how the mount was designed, printed, and fitted onto a motorcycle!
Case Study: LAVA's Phone Charging Solution for Motorcycles
13 August, 2021
LAVA's latest case study explores how the VC-OEM power adapter provides an effective phone charging solution for motorcycles.
VC-OEM: Motorcycle Smartphone Charging Solution
18 July, 2021
LAVA's VC-OEM power adapter is designed as a compact charging solution, capable of converting higher-voltage DC power to mobile device friendly levels.