e

SynC™-P1UE
RBM-equipped SimulCharge adapter with PoE, Ethernet and 1 USB port to power a peripheral
The eSynC™-P1UE is a SimulCharge adapter designed for use with select USB-C Samsung tablets and smartphones. Similar to our COTS SynC™+ P2UE adapter, it features Network Recovery & Battery Modulation (RBM), Power over Ethernet (PoE) and Ethernet. However, the eSynC P1UE is a special project adapter that comes with only one USB-A port, instead of two, and it only provides power to the USB peripheral. It's ideal for situations where you want to provide power to a peripheral through the USB port but use a Bluetooth connection for data. It's also useful if you simply need a way to charge the USB peripheral.
The Story Behind the Adapter
The eSynC™-P1UE was developed for a customer in the oil industry that used Samsung Tab Active Pros connected to scanners within their machinery. Previously, the company had purchased Enterprise series SynC™+ P2UE adapters (now known as eSynC-P2UE) for use with the tablets but encountered a unique problem. The issue was that the scanner, when connected to the adapter via USB, would switch off Bluetooth (data connection to the tablet) and the tablet's software would no longer recognize the connection.
Power 1 Peripheral Over USB
So the customer sought an adapter that could power the scanner but keep the Bluetooth connection intact. The solution was modifying the SynC+ P2UE board into the eSynC™-P1UE. It features one USB-A port that can provide power of up to 5V at 1 Amp to a USB peripheral (which is double the amperage of what a standard USB-A port can provide) but it does not provide a data connection. To ensure that there was no confusion between peripheral ports and that no application could exceed the power budget of the adapter, LAVA's engineer removed the second USB-A port.
Power at a Distance with PoE
The adapter also comes with PoE, which providing both power and a reliable network connection over the same Ethernet cable.*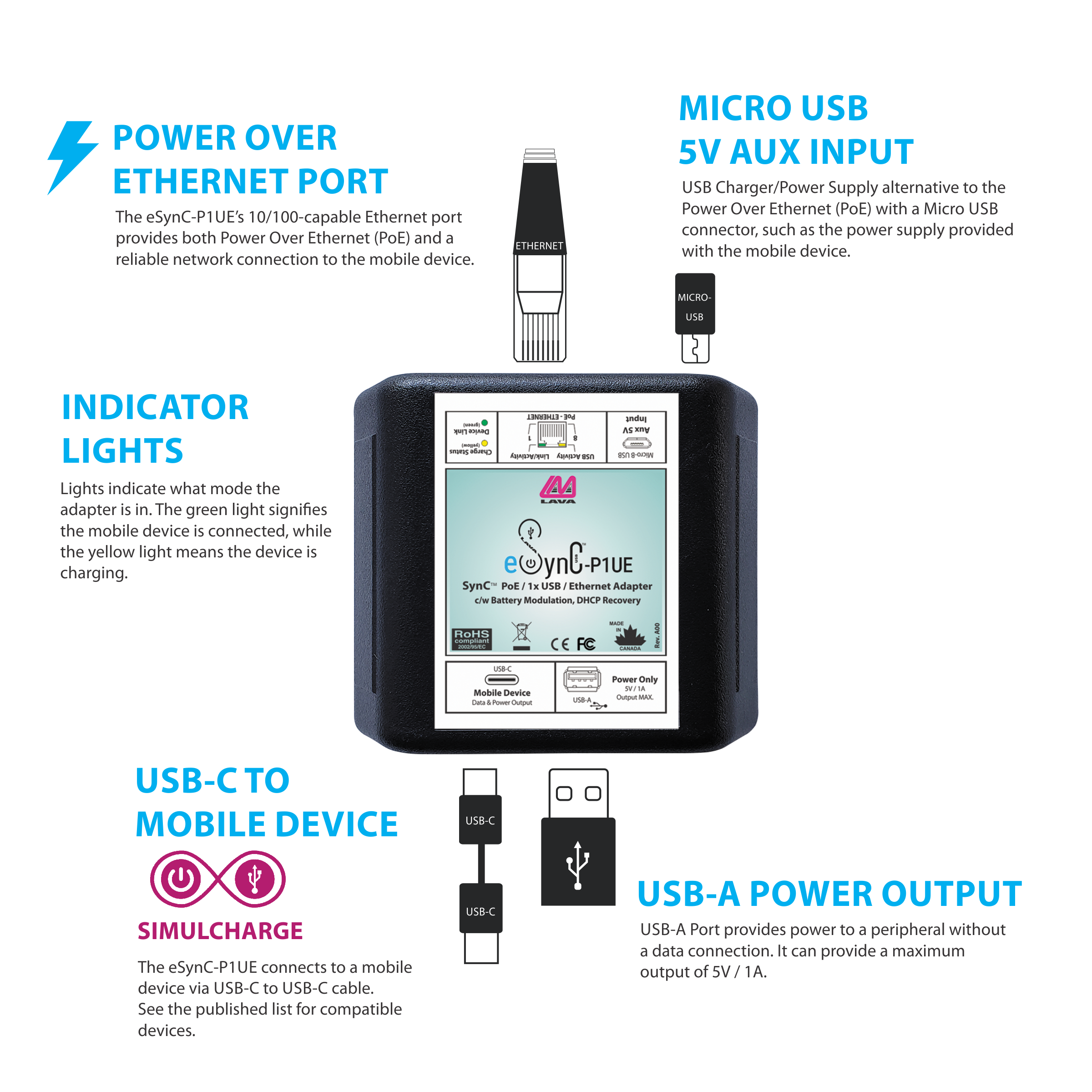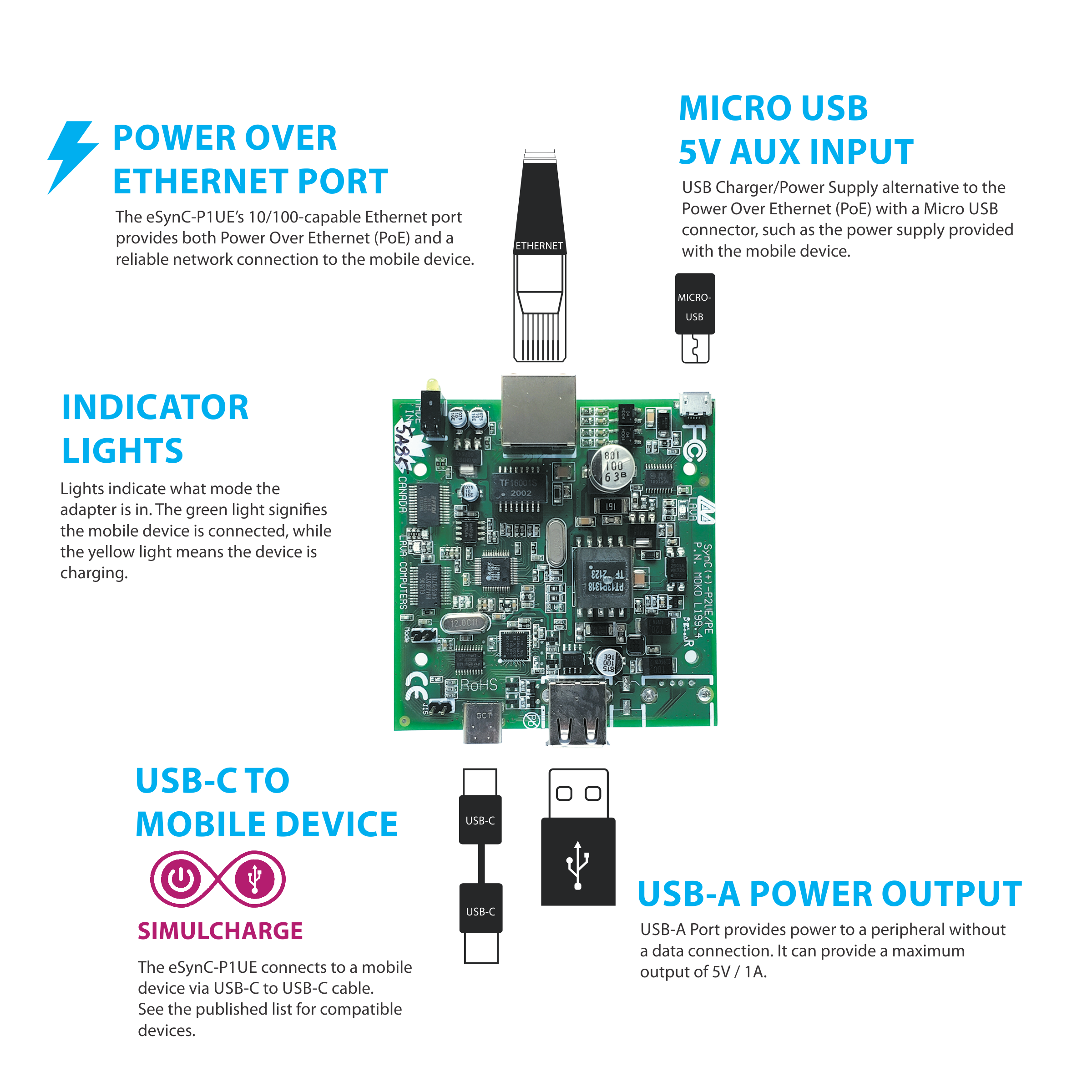 No electrical outlet is required and it can be installed without the need of an electrician. PoE also provides more options for where to put the tablet as the adapter can be placed up to 328 ft (100 m) away from the network switch.
Wired Ethernet Recovery and Robust Battery Protection
Part of the e series line, the eSynC™-P1UE features RBM technology which combines Ethernet recovery (in case of a wired connection dropout) and Battery Modulation technology which ensures the mobile device doesn't overcharge and keeps its battery from bloating, which can cause severe damage to the device. Working in tandem with the LAVA Tablet Manager (LTM) app, which needs to be preinstalled on the mobile device for use with an e series adapter, allows the user to configure upper and lower charging limits for the mobile device's battery. In addition to network recovery and battery modulation, the LTM app also provides access to a Screen Brightness Management feature, which can automatically adjust the brightness of the mobile device for both day and night. With RBM, you can keep the mobile device running and plugged in 24 hours a day, 7 days a week, without suffering battery issues.
*The tablet can also be powered through the adapter's Micro USB-B port, which is rated for the standard 5 volts at 2 amps.
---
Specifications
PORTS
1 x RJ45 10/100 Ethernet port (LAN)
1 x USB-A (Power-Only)
1 x USB-C (for mobile device connection)
1 x Micro USB-B (5V aux. power)
1 x Device Link LED
1 x Ethernet Link/Activity LED
1 x USB Activity LED



Specification Sheet
POWER INPUT
Power over Ethernet (13W maximum)
Appears as a Class 0 PoE Device
For non-PoE operational use, the Micro USB-B port can be used (port rated for maximum 5V at 2A input)
---
Features
USB Host operation while charging (SimulCharge)
Recovery Battery Modulation (RBM)
PoE (Micro USB-B 5V aux. power)
Ethernet
1 x USB 2.0 Type A Port (Power Only)
Support for installations running 24/7
No mobile device rooting required
LAVA Limited Warranty



Feature Sheet
RELEVANT ARTICLES & INSIGHTS
---
---
The eSynC-P1UE – Wired Power for Bluetooth Peripherals
19 December, 2021
LAVA SimulCharge adapters are used in a variety of industries and if our commercial adapters...
LAVA e Series Adapter Overview
3 October, 2021
SimulCharge technology allows select mobile devices, such as tablets and smartphones, to charge while simultaneously...
What is LTM?
10 October, 2021
In order to access these features, RBM-equipped adapters require the installation of the LAVA Tablet Manager (LTM) application on the mobile device...
What is Screen Brightness Management?
6 September, 2021
As the name suggests, Screen Brightness Management lets you adjust the brightness of the display...